If you're looking for a restaurant to supply an assortment of sandwiches and other items at your next event, Arby's can make that happen. Read this review to find out all about Arby's catering service.
Arby's fast-food restaurant has lived up to its name in terms of delivering a fresh, delicious variety of sandwiches. What about their mouth-watering sides like the jamocha shake? – it's something to die for.
Not only that, the prices are affordable, and there's always something new to try each time you visit.
Read along to see all you should know.
Arby's catering overview
Why is Arby's catering one of the best for your events?
Time-oriented
Great customer service
Reasonable prices
Great menu
Professional and friendly staff
Can cater to large and small groups
About Arby's
Arby's is an American restaurant chain founded by Forrest and Leroy Raffel, in the year 1963. The two brothers saw an opportunity to make and sell other fast food items besides hamburgers.
Fortunately, their courage paid off. Arby's is currently one of the largest fast-food sandwich restaurants with more than 3,500 restaurants in nine countries of the world.
Arby's menu is currently more extensive than just roast beef sandwiches, potato chips, and soft drinks which it started with.
The menu now includes a wide variety of items such as roast beef, beef 'n cheddar sandwiches, a deli-style market-fresh line of sandwiches, Greek gyros, curly fries, and jamocha shakes.
How does Arby's catering work?
Arby's Catering offers both deliveries and pickup of catering orders. Arby's partners with food delivery services like Doordash, Grubhub, and Uber Eats to help get your order delivered to your doorstep.
You can place your order through Arby's official website or any of the delivery partners. All you need for either option is your location, date of the event, time of delivery, menu items & quantity, and personal details.
Afterward, wait for the restaurant to contact you and confirm your order. Plus, it is better to request a catering order from a location closest to you or the venue of your event.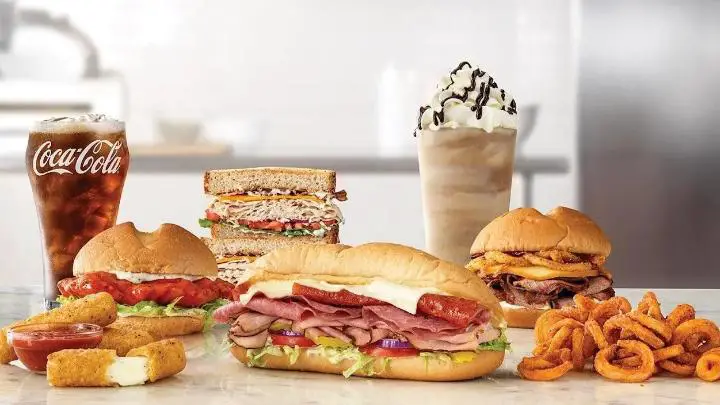 Market fresh sandwich platters
Roast Beef & Swiss Sandwich
Classic Roast Turkey & Swiss
Roast Turkey, Ranch & Bacon
Market fresh salad platters
Crispy or Roast Chicken (shredded cheddar cheese, tomato, bacon, and crispy or roast chicken)
Family Salad (shredded cheddar cheese and tomato)
Arby's meats
Sliced Roast Beef (served hot & marinated in Arby's au jus)
Chicken Tender Party Pack
Market fresh boxed meals
Roast Beef & Swiss Sandwich or Wrap
Classic Roast Turkey & Swiss Sandwich or Wrap
Roast Turkey, Ranch & Bacon Sandwich, or Wrap
Buns
Slider Bun
Sesame Bun
Star Top Bun
Onion Bun
Sub Roll Bun
Honey Wheat Bread
Dessert
Turnovers (cherry or apple)
Gourmet Cookies (salted caramel & chocolate or triple chocolate)
Why order Arby's catering?
Still a little skeptical about why you should order Arby's catering service today, see some authentic reasons to do that below:
Very affordable menu price
Available for pickup and delivery
An array of delectable menu options
Timely delivery of service
Able to serve both small and large guests
Easy order process
What kind of occasion can you order Arby's catering service for?
Arby's catering is available for you at any of these events:
Family reunion
Casual outings
Birthdays
Corporate events
Business meetings
Private parties
Graduations
Big and small events
Market fresh sandwich platters: $32
Market fresh salad platters: $12 – $20
Arby's meats: $9.99 – $24
Market fresh boxed meals: $7 – $8
Buns: $3.50 – $6
Dessert: $12 – $18
Do Arby's offer coupons and promos?
Arby's doesn't offer any coupons or promos. But you can enjoy 50% off any sandwich on your next order once you sign up for their email list.
This offer is valid on any full-priced sandwich or wrap and is limited to participating restaurants alone.
FAQs
What services does Arby's catering offer include?
Arby's catering services include delivery and pick-up.
What scale of events can Arby's cater to?
Arby's caters to any type of event, regardless of number.
How do you request a catering quote or order?
Visit Arby's catering website and place your order to get a quote.
So, is Arby's catering service worth it?
If you are looking to serve delectable sandwiches at your next event, Arby's catering has got you. Another good thing is that their ordering process is so easy and delivery is swift and reliable.
I hope this review helped. Thanks for reading.
Visit Cheffist to check out our review on other catering services.