Is Cheetos gluten-free and safe for people with celiac disease? Yes—as stated by the manufacturer, Frito-Lay.
However, are they dairy-free? Vegan-friendly? Or do Cheetos pose great health value? These are genuine questions that will be answered in this article.
What is Cheetos?
Cheetos is a crunchy corn puff snack. The name Cheetos was coined from cheesy Fritos because the snack is made from Fritos ingredients.
The corn snack contains cornmeal, corn oil, cheese seasoning (whey, cheddar cheese [milk, cheese culture], canola oil, maltodextrin [made from corn], natural and artificial flavors, salt, whey protein concentrate, monosodium glutamate, lactic acid, citric acid), and salt.
Cheetos was first created in 1948 by Charles Elmer Doolin, who later merged with Lay's to form Frito-Lay. In 1965, Frito-Lay became a subsidiary of PepsiCo.
This brand of cheese snacks has enjoyed popularity in the United States since its original Crunchy Cheetos were first produced in 1948. The company continues to sell 21 different types of Cheetos in North America alone.
SEE: Can Hot Cheetos Make Your Poop Red?
Is Cheetos gluten-free?
Yes, Cheetos is gluten-free.
The manufacturers affirm that the cheese-corn snack is made with gluten-free ingredients, making it a healthy choice for people with gluten sensitivity.
Also, you should know that gluten-free Cheetos are mainly sold in the US. Therefore, people with a gluten intolerance living outside the US should not eat Cheetos.
Is jalapeño Cheetos gluten-free?
Yes, jalapeño Cheetos is gluten-free.
The manufacturers have clearly stated that most of their Cheetos snacks are free of gluten. So, people with gluten sensitivity can safely snack on any of the many flavors.
Is Cheetos dairy-free?
No, it is not.
Cheetos may be gluten-free, but it is not dairy-free.
You must know that some of the key ingredients in Cheetos are gotten from milk derivatives which are dairy products.
Is Cheetos healthy?
No, it is not.
Cheetos might have the cheese taste you crave, but it can contribute to a less-than-healthy lifestyle, especially when you have too much. It can increase the risk of heart disease, high blood pressure, and high cholesterol.
Therefore, excess consumption of this cheesy corn snack may be a threat to your health.
How many packs of Cheetos should you eat?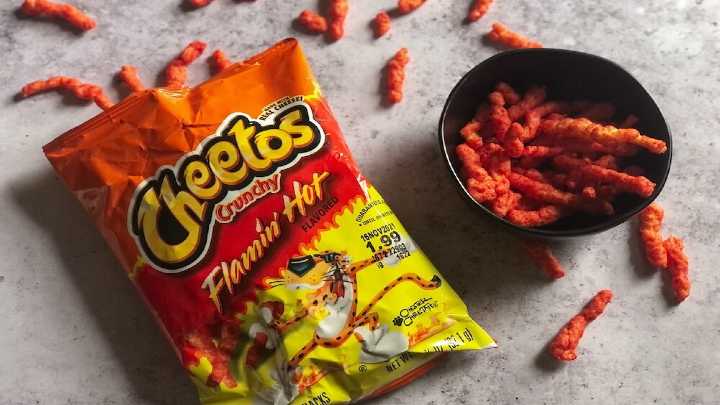 If you want to stay healthy and have all your body systems working perfectly, you should not take too many Cheetos.
It is good to eat them on the go when you are working to kill time but do not make it a daily habit.
Additionally, stay away from eating too many Flaming Hot Cheetos. It takes a lot of time for your stomach to digest this flavor of Cheetos and when you eat more than one bag, it causes gastritis, which is a painful stomach disease.
Gluten-free Cheetos
Below is a list of all the gluten-free flavors of Cheetos:
Baked Crunchy Cheese-Flavored Snacks
Cheetos Crunchy Cheddar Jalapeño Cheese-Flavored Snack
Cheetos Crunchy Cheese-Flavored Snacks
Crunchy Flamin' Hot Cheese-Flavored Snacks
Crunchy Flamin' Hot Limón Cheese-Flavored Snacks
Cheetos Crunch Extra Flamin' Hot Flavored Cheese Flavored Snacks
Fantastix Chili Cheese Flavored Corn And Potato Snacks
Flamin' Hot Flavored Corn And Potato Snacks
Cheetos Paws Cheese-Flavored Snacks
Puffs Cheese-Flavored Snacks
Cheetos Puffs Flamin' Hot Cheese-Flavored Snacks
Cheetos Simply Crunchy White Cheddar Cheese Flavored Snacks
Simply Puffs White Cheddar Cheese-Flavored Snacks
Cheetos Reduced-Fat Crunchy Flamin' Hot Cheese-Flavored Snacks
Reduced-Fat Crunchy Flamin' Hot Lemon Cheese-Flavored Snacks
Cheetos Reduced-Fat Puffs Cheese-Flavored Snacks
Reduced-Fat Puffs Flamin' Hot Cheese-Flavored Snacks
5 Healthy Ways to Eat Cheetos
Cheetos are known to have little benefit to one's health and could even be harmful.
Therefore, you can help yourself by using these helpful tips to maintain a healthy diet while eating Cheetos.
To keep track of your daily Cheetos consumption, leave the bag of Cheetos in its original container. This will remind and inform you of how many calories and fat are in a serving of Cheetos.
To ensure you do not eat too many Cheetos, keep them out of your reach. When you can't easily pick a bag and eat at will, it becomes easier to control the amount you eat daily. Studies suggest that where snack foods are kept can affect daily calorie intake.
Don't eat Cheetos straight out of the bag. Instead, put just a handful in a bowl. This way you can keep track of how much you have eaten.
If you must keep Cheetos in your kitchen, store them in high cupboards or low storerooms.
Avoid placing Cheetos snacks on counters or in your room drawers. It helps overcome the temptation to snack on it every now and then.
FAQs
Are Cheetos made with real cheese?
Yes, they are.
Cheetos are made with a dehydrated derivative of cheese and it contains the RDA of calcium. Adding Vitamin D3 increases Cheetos' nutritional value.
Are Cheetos flavors wheat-free?
Yes, they are.
Therefore, this makes them gluten-free. You will not find any Cheetos brands made with wheat or rye.
SEE: Are There Gluten-Free Hershey's Kisses?
Is there dairy in hot Cheetos?
Yes.
Hot Cheetos contains cheddar cheese, whey, and buttermilk.
Can Cheetos harm you?
Not at all.
Cheetos may not be beneficial to your health but it does not cause immediate harm.
Although eating the flamin' Hot Cheetos flavor can cause your stomach upset if you consume it in excess. Asides from this, you do not get into harm's way with Cheetos.
Can vegans eat Cheetos?
No. These chips contain dairy and are produced with animal enzymes, making them unsuitable for vegans or vegetarians.
Conclusion
While it's tempting to have Cheetos all the time, constantly snacking on this snack isn't so great for your health.
Also, if you are gluten intolerant this article has established that you can take Cheetos. It won't trigger any of the symptoms of gluten intolerance.
Although, just like everyone else you shouldn't eat too many snacks to avoid developing other health conditions.
Thanks for reading.
If you enjoyed reading this article, view Cheffist for more.