Buffalo Wild Wings filled its drinks menu with good choices to satisfy your cravings. If you're looking for something alcoholic, the house mixers can make a perfect drink just for you.
If you want a beer, go with Bud Light or Coors Light. The bar features a variety of drinks that cater to everyone's preferences.
In essence, there's something for everyone on the Buffalo Wild Wings drinks menu. Read on to see the complete list of drinks available at the restaurant.
About Buffalo Wild Wings
Founded in 1982 in Columbus, Buffalo Wild Wings is a casual dining restaurant chain that offers a variety of food and drinks. The company currently operates over 1,279 locations throughout the United States and DC.
While specializing in chicken wings, the Buffalo Wild Wings menu also includes different burgers and wraps, as well as drinks.
The chain also offers salads, sandwiches, and appetizers like fried pickles, hatch queso, street tacos, and so on.
In addition to the items on the menu, Buffalo Wild Wings allows guests to customize their meals. For instance, you can customize dipping sauces – for chicken wings and bags of chips – to any flavor of your choice.
SEE: How to Get Amazing Deals At Restaurants
What time does Buffalo Wild Wings restaurant open? 
Buffalo Wild Wings opens for business at 11:00 a.m. and closes at 11:00 p.m., Monday – Friday. While on weekends the restaurant's operating hours are from 11 a.m. .to 12 a.m.
Although the timing can vary with location, Buffalo Wild Wings' operating hours are:
Monday – Friday: 11:00 a.m. – 11:00 p.m.
Saturday – Sunday: 11:00 a.m. – 12:00 a.m.
Note, that the timing is not the same across all Buffalo Wild Wings locations. Therefore, ensure you contact your local restaurant or visit the restaurant's official website to confirm the right timing.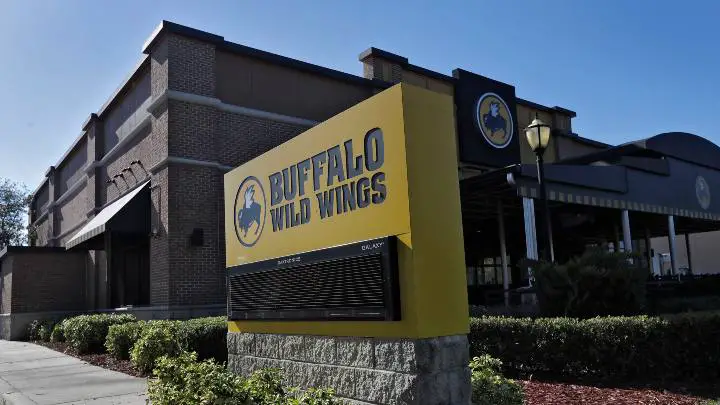 Buffalo Wild Wings serves some of the best drinks. When, when you're ready to dine at the restaurant, the extensive menu makes your dining time worth it.
Here is the complete list of Buffalo Wild Wings drinks menu:
Drinks
Dr. Pepper
Mug Root Beer
Sweet Tea
Pepsi Bottle
Diet Pepsi Bottle
Sierra Mist Bottle
Mountain Dew Bottle
Bottled Water
Izze Clementine
Izze Blackberry
Red Bull
2 Red Bulls
Tropicana Lemonade
Tropicana Pink Lemonade
Fresh-Brewed Lipton Unsweetened Iced Tea
SEE: New Delicious American & Mexican Meals Added to Chili's Menu
Cocktails
Berry Bash
Tito's Mule
Blue Hawaiian
Citron Crush
Classic Mojito
Dep Eddy Crush
Hendrick's G+T
Henny Habanero
Henny Hustle
Hibiscus Margarita
House Margarita
Hundo 'Rita
Longbranch Cream Soda
Mezcal Margarita
Old Fashioned
Old No. 7 Lemonade
Pineapple Mojito
Platinum Margarita
Ranch Water
Red Bull Sunrise
Red Sangria
The Spiked Football
B-dubs Bloody Mary
B-dubs Make It Wild Bloody Mary
Spicy Passionfruit Margarita
Top-Shelf Long Island Ice Tea
Buffalo Trace Old Fashioned (at selected locations)
Mixers
Q Tonic
Red Bull
Q Ginger Ale
Q Ginger Beer
Q Club Soda
Red Bull Sugar-Free
Lagunitas Hoppy Refresher
Wine
Prosecco
Darkhorse, Rose
Pasmosa, Sangria
Ecco Domani, Pinot Grigio
Mark West, Pinot Noir
Josh Cellars, Cabernet Sauvignon
Chateau St. Michelle, Chardonnay
SEE: How To Store Wine And Beverages At Home
Tap list (Domestic/craft beer)
Bud Light
Budweiser
Coors Light
Stella Artois
Guinness Draught
Heineken
Lagunitas IPA
Michelob Ultra
Miller Lite
Modelo Especial
Creature Comforts Tropicalia
Dos Equis Lager Especial
Goose Island Wild Herd
Kona Big Wave Golden Ale
New Belgium Fat Tire Amber Ale
Newcastle Brown Ale
Pabst Blue Ribbon
Samuel Adams Boston Lager
Scofflaw Pog Basement
Blue Moon Belgian White
Terrapin Hopsecutioner
Truly Hard Seltzer Wild Berry
Wicked Weed Appalachis IPA
Yuengling Traditional Lager
Angry Orchard Crisp Apple Cider
Sierra Nevada Hazy Little Thing IPA
Yes, Buffalo Wild Wings have a menu set aside for kids at affordable rates. You can find the following meals on the Buffalo Wild Wings kids' menu:
Cheeseburger
Mac & Cheese
Boneless Wings
Traditional Wings
Hand-breaded Tenders
A similar restaurant with a kids' menu is Ruby Tuesday. That's not all. Ruby Tuesday offers kids free food from 5 p.m. till closing every Tuesday during its happy hour.
SEE: Eat and Drink For Less Price During Fleming's Happy Hour
Is there any special offer available at Buffalo Wild Wings?
Some of the promos you can enjoy at Buffalo Wild Wings include:
BOGO 50% off wings every Tuesday
To take advantage of this offer, you will have to buy 6 traditional wings to get 6 more at 50% off. This is a smart way to feed the whole family without spending much.
In addition, out of the 17 sauces available for traditional wings, you get to pick any two of your choices. The sides available include large french fries, potato wedges, cheddar cheese curds, and regular beer-battered onion rings among others.
BOGO free boneless wing
This offer is only available on Thursdays. When you buy one boneless wing, you get one free of equal value. But this is not valid with other offers.
You also have the option to pick two out of the sauces available for boneless wings. The sides available include large french fries, garden side salad, chips and salad, and regular tots among others.
Buffalo Wild Wings happy hour (Drink for one or bites to share)
Buffalo Wild Wings happy hour is from 3 p.m. to 6 p.m., Monday through Friday every week. During these hours, you get to enjoy a variety of food and drinks for as little as $3 – $6.
Some of the items available during the happy hour include house beer, blue long island, iced tea, miller lite, tater tots, mozzarella sticks, chips & salad, and strawberry margarita.
The happy hour offer is only available for dine-in. In addition, offers may vary with location and may not be available in some locations.
Other similar happy offers you should check out include:
FAQs
When is Buffalo Wild Wings happy hour?
Buffalo Wild Wings happy hour starts from 3 p.m. to 6 p.m., from Monday through Friday every week. But, offers may vary with location and some locations may not have these offers.
What drinks are at Buffalo Wild Wings?
Soft drinks, wines, beer, mixers, and cocktails are all available on the Buffalo Wild Wings drinks menu.
What sauces are available at Buffalo Wild Wings?
Honey BBQ, lemon pepper, spicy garlic, mango habanero, Teriyaki, Caribbean jerk, chipotle BBQ, Thai curry, and desert heat among others.
Conclusion
Buffalo Wild Wings' drinks menu confirms that the chain offers an extensive repertoire of bar offerings. It has the staples you would expect like beer and cocktails, and then some wines.
If you are a fan of craft beer, they have more than enough beers on tap. Their wine selection is particularly noteworthy as well, with a variety of wines available on the menu. Whether you want a margarita or something refreshing, you're sure to find it in the drinks section.
Most of their appetizers are relatively healthy. If you love wings but want to stay away from bones, boneless wings paired with a salad are a nice alternative.
I hope you found the article helpful. I recommend that you check out the Happy Hours category.
Thanks for reading.