Are you on some dietary restrictions and thinking if it is safe to eat at Chili's restaurant? Well, with Chili's allergen menu, you have nothing to fear.
Whether you have Celiac Disease or react to allergens, there are safe foods for you at Chili's and that's why I have written this article for you.
In this article, I have compiled the complete list of items on Chili's allergen menu with no gluten, gluten-containing ingredients, or other food allergens in them.
Read on to learn about foods that are safe for you at Chili's restaurant.
About Chili's
Chili's is a popular casual dining restaurant chain based in Texas, that serves Tex-Mex and other Southwestern cuisine. The concept was founded by Larry Lavine in 1975.
The original concept was to offer a premium-quality product at an affordable price, featuring menu items that were made from scratch such as the famous Chili's Original Recipe Beef Burgers.
Chili's has expanded its menu over time to include more than just burgers, but also includes salads, sandwiches, appetizers, and desserts.
In addition, the restaurant also offers varieties of allergy-friendly meals for those with Celiac Disease or food allergies.
The chain continues to grow around the world and now has more than 1,610 locations worldwide with 1,227 of them in the United States.
SEE: How to Get Amazing Deals At Restaurants
What time does Chili's open for business?
Most Chili's restaurants open at 11 am every day of every week. It doesn't matter which day you visit. You can enjoy delicious and affordable allergen-free meals starting from 11 am in the morning.
Notwithstanding, the time of operation might vary slightly depending on your location. The reason for this is that Chili's has many restaurants at different locations.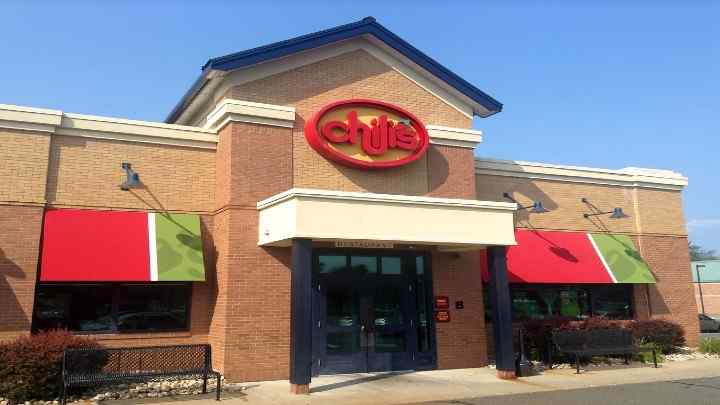 But, for most Chili's locations, here are the operating hours;
Sunday – Thursdays: 11 am – 11 pm
Friday – Saturday: 11 am – 12 am
Please ensure you confirm your local Chili's operating hours. You should visit Chili's location page. All outlets are listed on the page with their information.
SEE: How To Get A Discount During Happy Hour At Chili's
Unfortunately, Chili's does not serve breakfast or have a brunch menu not to talk of having a gluten-free meal on it.  
While other restaurants such as Arby's and Sonic serve breakfast in the morning, Chili's doesn't belong to that category of restaurants.
However, for some of their locations at the airport, you may get to enjoy a delicious breakfast. But ensure you confirm the meal nutrition information to avoid eating foods with allergens.
Panera Bread serves breakfast in the morning from 6 am to 10:30 am. On its breakfast menu, items prepared with allergens are separated for you to see. I encourage you to check out the Panera allergen menu.
SEE: Jack's Breakfast Hour: Get A Discount On Breakfast
Chili's has a quite number of delicious meals that are gluten-free for anyone with Celiac Disease or food allergies.
A variety of burgers, soups, salads, steaks, and even sides are all available if you are looking for gluten or allergen-free meals.
According to categories, here is the list of items on Chili's menu that do not contain allergens;
Well, For Starters
Bone-In Wings Buffalo, Honey Chipotle, or House BBQ
Tostada Chips & Guacamole
Texas Size Baby Back Ribs without Sides
Flavors: Dry Rub, Honey-Chipotle, House BBQ, or Original BBQ
Big Mouth Burgers without Bun
Alex's Santa Fe Burger
Bacon Rancher
BBQ Brisket
Big Bacon BBQ
Just Bacon Burger
Mushroom Swiss
Oldtimer Burger
Queso Burger with Tortilla Strips
Secret Sauce Burger
SEE: Longhorn Allergen Menu: Delicious Meals And Their Allergen Information
Fajitas with Corn Tortillas
Grilled Chicken, Steak, or Shrimp
Fresh Mex Bowls with Tortilla Strips
Chipotle Chicken or Shrimp
Guiltless Grill
6 oz or 10 oz Sirloin with Grilled Avocado
Cilantro-Lime Carne Asada
Ancho Salmon
Margarita Grilled Chicken
SEE: The Popular Burger King Allergen Menu
Steaks
Cilantro-Lime Carne Asada
Classic Ribeye
Classic 6 oz or 10 oz Sirloin
Salads
Caesar Salad without Croutons
House Salad without Croutons
Santa Fe Grilled Chicken Salad
Soups + Chili
Loaded Baked Potato Soup
Southwest Chicken Soup with Tortilla Strips
The Original Chili with Tortilla Strips
SEE: Chick-fil-A Allergen Menu: What Tasty Meal Is Safe For You
Salad Dressings
Ancho Chile Ranch
Avocado Ranch
Bleu Cheese
Caesar Dressing
Citrus Balsamic Vinaigrette
Honey Lime Vinaigrette
Honey Mustard
Ranch
Santa Fe
Thousand Island
Smokehouse Combos without Sides
Baby Back Ribs
Jalapeno-Cheddar Smoked Sausage
SEE: The Updated Bojangles Allergen Menu
Side Notes
Grilled Asparagus
Black Beans
Coleslaw
French Fries
Mexican Rice
Roasted Street Corn
Shrimp
Steamed Broccoli
Sweet Corn on the Cob
Loaded Mashed Potatoes
Note: According to Chili's, the items listed above do not contain glutens or ingredients containing glutens based on the information from the restaurant-approved suppliers.
Since there are multiple sources of gluten in Chili's kitchen, there may be items with a risk of cross-contact during preparation.
SEE: The Latest Culver's Allergen Menu
I love the fact that Chili's put children into consideration on its allergen menu.
Therefore, yes Chili's has an allergen menu for kids that reacts to foods containing allergens.
Here are the foods with no gluten on Chili's kid's menu;
Grilled Chicken Dippers
Corn on the Cob
Corn Kernels
Mandarin Oranges
Mashed Potatoes
Salad with Ranch
Steamed Broccoli
While it is not a long list as one might expect, it's still worth it. Wendy's for example does not have an allergen menu for kids.
In case your kids are cool with foods that contain one or more allergens, Ruby Tuesday has an offer for you.
Ruby Tuesday host a happy hour from 3 pm to 6 pm and 9 pm to close every day. But on Tuesday (which the happy hour is all day), kids get to eat for free from 5 pm till closing.
SEE: Fleming's Happy Hour: Eat and Drink For Less Price
FAQs
Is Chili's salsa gluten-free?
No, the salsa at Chili's is not gluten-free. Even if you go through the listed gluten-free options in this article, you will see that salsa is not included.
What about Applebee's allergen menu?
Like Chili's and some other fast-casual restaurants, Applebee's has an allergen menu with its foods that contain one or more allergens.
Can you order from Chili's alcohol menu?
As much as you are at least 18 years old, you can order from Chili's alcoholic drinks menu. Chili's menu carries a wide variety of alcoholic drinks for everyone no matter your taste.
SEE: Chili's Drinks Menu: Over 90 Drinks Available
Conclusion
While there's no guarantee that each individual server will be equally as thoughtful about your allergies, if you're looking for a chain restaurant with careful and clear allergen precautions, Chili's should be on your list of go-to places.
Chili's allergen menu is clear and thorough, which is to be expected for such a major restaurant chain. This says a lot about them as a whole.
The dedicated staff at Chili's are more than willing to accommodate their customers who may have dietary restrictions.
Lastly, don't forget, that cross-contact contamination may occur during the cooking of a meal through a utensil or a shared kitchen. As a result, please ensure you confirm the nutrition information of your meal before you order.
I hope you found this article helpful. If you do, you should also check out what Five Guys, PF Changs, and Buffalo Wild Wings have for you on their allergen menu.
Thank you for reading.