Does Starbucks have decaf iced coffee? Yes, they do.
Do not feel bad for asking, it's your coffee. And your coffee should be served your way; it's the best way to enjoy it.
Starbucks is a multinational chain of coffeehouses with a large majority of its stores located in the United States where it was founded.
In addition, the company is popular for its wide variety of coffees alongside other beverages, sandwiches, salads, and wraps. If you are a lover of decaf iced coffee, you should give Starbucks a try.
Read this article to know the types of decaf iced coffee you can get from Starbucks. 
What is decaf coffee?
Decaf coffee is a variety of coffee that has about 97% of its caffeine content removed. However, it is not a caffeine-free coffee.
Decaf coffee is good for people trying to reduce their caffeine intake. It is also a great choice for people who just want to enjoy coffee without getting the alertness that comes with taking caffeine.
The amount of caffeine left in a decaf coffee depends on the level of "caffeination". There are full, 1/2, 1/3, and 2/3 decaf options to choose from, based on what you want.
Does Starbucks have decaf iced coffee?
Yes, Starbucks offers decaf iced coffee.
There is a variety of decaf iced coffee available at Starbucks. But the list does not include decaf actual brewed iced coffee and cold brew coffee.
If you love iced espressos, Starbucks also offers this type of coffee in decaf options. Keep in mind that there are different levels of "caffeination" to choose from.
How much caffeine is in a decaf iced coffee from Starbucks?
The amount of caffeine in a decaf iced coffee from Starbucks depends on the level of "caffeination" you want and the size of the cup you requested.
Generally, decaf coffee has about 97% of its coffee removed. Based on cup size, you can expect the following:
A short cup contains 15 mg of caffeine
A tall cup contains 20 mg of caffeine
A grande cup contains 25 mg of caffeine
A venti cup contains 30 mg of caffeine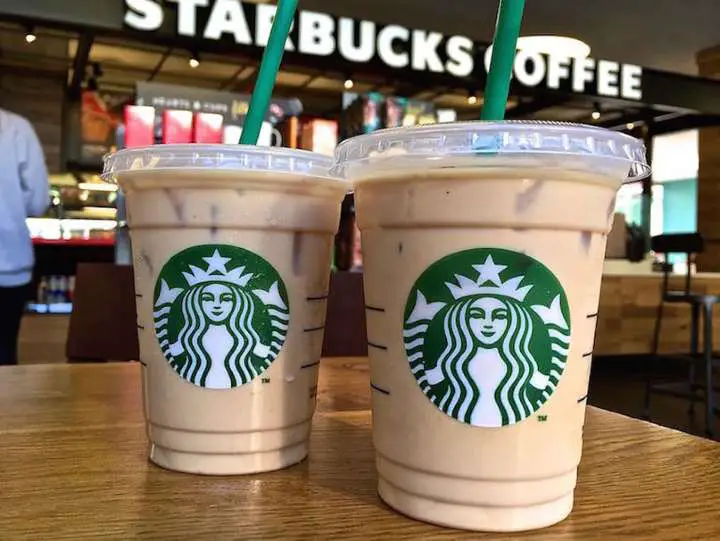 What types of decaf coffee are available at Starbucks?
Here's a list of the decaf iced coffee available at Starbucks:
1. Decaf iced caffé Americano
A cup of decaf caffé Americano contains water, espresso, and ice. Like a typical espresso, it has just a light layer of cream and rich blackness any espresso lover will enjoy.
2. Decaf iced espresso
This expresso is a typical roast over ice but with low amounts of caffeine. This decaf iced coffee has everything you'll want in an espresso.
3. Decaf iced shaken espresso
You must have heard about the new coffee that replaced the Doubleshot espresso on ice on the Starbucks menu. It's decaf iced shaken espresso.
It is a combination of shaken espresso, ice, classic syrup, and a dash of 2% milk. What I like about this decaf coffee is that you can modify it to suit your needs. For instance, you can replace 2% milk with plant-based milk if you have dairy allergies.
Furthermore, you can reduce the number of calories in the coffee by removing the syrup, milk, and any other sweetener.
4. Decaf iced coffee pour-over
Go for decaf iced coffee pour-over if you don't want an espresso. To make this coffee, the barista pours hot water over ground decaf coffee beans. Then, the coffee drips into a bowl of ice.
In this method, you can only brew one cup of coffee at a time. Additionally, it's not a perfect choice if you're in a rush because it takes a longer time to prepare.
5. Decaf iced flat white
A decaf iced flat white is an espresso that is perfect for people who want to drink espresso without caffeine. In addition, it contains milk to balance out the rich espresso.
6. Decaf iced latte
Espresso and steamed milk with little caffeine taste just as nice as espresso that still has its caffeine content. You can enjoy a decaf iced latte with any milk, depending on your preference.
7. Decaf iced macchiato
Decaf iced macchiato is not your regular espresso. It is decaffeinated espresso with milk or cream. You can modify your coffee by changing the type and amount of milk or cream.
8. Decaf iced mocha
Inside a cup of decaf iced mocha are espresso, white chocolate mocha sauce, and ice. Feel free to make any modifications to your order.
How can you order Starbucks decaf iced coffee?
Ordering decaf iced coffee from Starbucks is very easy. You can walk into any Starbucks around you or order through the Starbucks mobile app.
Here's how to place an order both ways:
Check the Starbucks menu to be sure that the location you're ordering from has the decaf iced coffee you want
If they do, proceed to choose the drink you want and indicate if you want any extra toppings
Then, choose the level of "caffeination" you want (that is, full, 1/2, 1/3, or 2/3)
Also, choose the size of cup you want
Pay and wait for your order to get to you. You can have a food delivery service like DoorDash deliver your coffee to you anywhere you are
FAQs
Does Starbucks have other decaf drinks?
Yes, it does.
Other decaf drinks available at Starbucks include Skinny Hot Chocolate, White Hot Chocolate, White Chocolate Crème Frappuccino, Caramel Ribbon Crunch Crème Frappuccino, Cinnamon Dolce Crème, and many others.
Is decaf coffee better than regular coffee?
No, it is not.
Decaf coffee is coffee with less caffeine content. You'll find that it tastes just like regular coffee.
Moreover, the only thing you're missing out on with decaf coffee is the level of caffeine. This implies that decaf coffee can supply about the same nutritional value as regular coffee.
Which Starbucks decaf coffee has the lowest caffeine?
Decaf Pike's Place Roast is the Starbucks decaf coffee with the least amount of caffeine. Per Grande cup, it contains 25mg of caffeine.
Conclusion
If you would rather pass on caffeine, visit Starbucks to get decaf iced coffee. Moreover, you can get decaf iced coffee of different strengths.
When you order a decaf iced coffee from Starbucks, the level of "caffeination" is one of the questions the attendant will ask you. There are full, 1/2, 1/3, and 2/3 decaf options. Also, they'll like to know the cup size you want.
With all this information, your cup of decaf iced coffee will be on its way in minutes. Most importantly, remember that decaf coffee is not completely caffeine-free, just in case that's what you're looking for.
Thanks for reading.
Visit Cheffist to read more informational articles like this.