If you're looking for a way to get a late-night meal to you, you must be wondering if DoorDash can deliver late into the night.
DoorDash operates 24 hours every day and can deliver as late as midnight, any day. Yes, that's how late they deliver to customers.
And if you have never patronized DoorDash, you can rest assured that it's just as cool as GrubHub and Uber Eats. DoorDash can help you get your food, drinks, and groceries while you only have to make the request and pay.
But there is vital information about DoorDash late-night delivery that you should know. There's only one way to find out. Keep reading!
About DoorDash
DoorDash was started by Tony Xu, Andy Fang, Stanley Tang, and Evan Moore in 2013. It is a logistics company that helps to connect potential customers with restaurants, grocery stores, and supermarkets.
It is an online food ordering and delivery company that allows customers and business owners to comfortably receive and render services respectively.
DoorDash is based in San Francisco, California but serves other countries apart from the U.S.
It is an on-demand food delivery company that partners with local businesses like restaurants, convenience, and grocery stores to empower them while serving customers seamlessly.
While successfully achieving this, DoorDash has emerged as the largest food delivery provider in the U.S.
When does DoorDash start daily operations?
DoorDash runs a 24-hour delivery service. But the operating hours largely depend on the operating hours of the restaurant, the grocery store, and the driver.
Although under the company, Dashers (the drivers) work freelance, and the operating hours of each vary. While you may find a driver who can take your order as early as 5 a.m., some drivers are unavailable until 8 a.m.
Most Dashers close work for the day by 10 or 11 p.m. when most stores are closed. But you may be lucky to find a driver who's running extra hours to make extra money.
In the same vein, DoorDash's daily operations depend on when the pickup store opens and closes for the day. To avoid being disappointed, confirm that the store you're buying from is open at the time of your order.
How late does DoorDash deliver?
DoorDash delivers as late as midnight. The logistics company is open 24 hours every day.
If the restaurant or grocery store is open at the time of your order and there is an available driver, you'll get your order at midnight. However, getting a driver at night could be quite difficult.
Generally, most stores are closed by 11 p.m., and orders are fewer around that time. DoorDash drivers are also close for the day at about the same time.
But, there may be a few who are ready to work extra hours and make more money.  
How long does it take to receive a DoorDash order?
It takes 42 minutes and 10 seconds to receive an order from DoorDash.
However, your order may come earlier or later depending on the distance, traffic, and the time the driver spent at the merchant.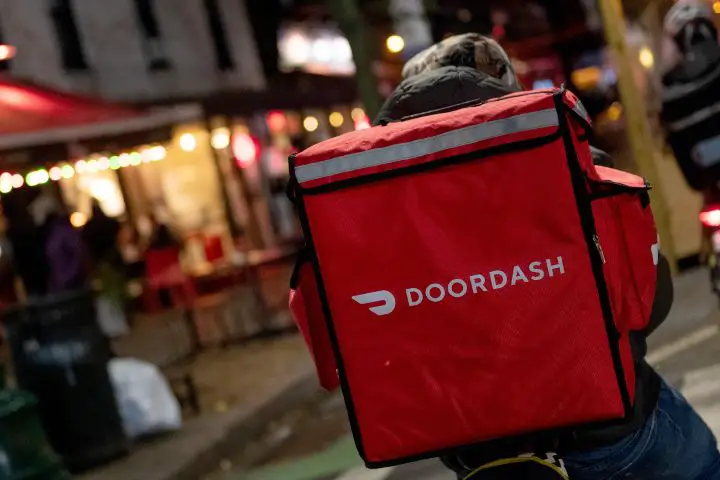 Will DoorDash deliver past midnight?
Yes. But there are conditions for delivery past midnight. Also, as mentioned earlier, getting a driver past midnight could be quite difficult.
And when you get a driver, you must be sure that the merchant store operates past midnight.
What is considered too late on DoorDash?
An order is considered too late on DoorDash if it doesn't come within the estimated delivery time. A late delivery, however, factors in all uncontrollable circumstances.
For instance, a delivery may come late if the driver is delayed at the merchant store. Also, the driver may have been held up in traffic.
Why did your DoorDash delivery take long?
Delivery from DoorDash may have taken too long for many reasons. Some of them include:
There aren't many available Dashers
The volume of orders coming in for the merchant and Dasher
The Dasher spent a lot of time at the merchant store
Traffic, bad roads, and bad weather
Incorrect information from customer
The application was down when you made your order
It could also be because your order is coming in during rush hour at the restaurant or store
Additionally, you are not tipping the driver. Encouraging Dashers with tips can help speed up your order
How late does DoorDash deliver Taco Bell?
DoorDash can deliver meals from Taco Bell at any time of the day. Taco Bell is open 24 hours every day, so, you can get meals anytime.
However, getting your order depends on the availability of drivers at the time of your order. Also, Dashers might not like to go to urban areas where crime rates are high for fear of their safety.
How late does DoorDash deliver McDonald's?
You can get an order from McDonald's through DoorDash at any time of the day.
McDonald's is one of those restaurants that are open 24 hours every day. If you are sure the McDonald's around you is open past midnight and there is an available driver, you can order your meal.
How late does DoorDash deliver alcohol?
DoorDash will deliver alcohol at any time of the day to customers of drinking age. Also, DoorDash will only deliver alcohol from a restaurant that has a liquor license.
How can you find a DoorDash driver late at night?
You can find Dashers through the official website or mobile app even at night. But chances of getting a Dasher are slim. However, you can do a few things to increase your chances of getting a driver.
Make sure your pickup location is close to the delivery location. This will increase the driver's willingness to go since he doesn't have to ride a long distance. Also, order meals from restaurants that prepare and pack meals quickly.
Additionally, be ready to tip the driver generously. Taking late-night orders means working extra hours.
A tip is a subtle appreciation for the effort and risks the driver is taking. How much tip is considered generous enough? I'll say at least $5 is good motivation.
Does DoorDash refund delivery that took long?
Yes, but there are conditions for the refund. DoorDash will only refund a delivery that took too long if you cancel it before requesting a refund.
Moreover, if your order is a meal from a restaurant, you must cancel the order before the restaurant starts preparing the food.
FAQs
Will DoorDash give a refund for missing food?
Yes, it will. DoorDash will refund any reported missing food or any item.
The company begins processing the refund immediately after the report, but it may take 5 to 7 days before the customer gets their refund. DoorDash, in turn, gets back the money from the restaurant.
Can you schedule orders ahead on DoorDash?
DoorDash allows customers to schedule their orders ahead of time. Just like an immediate delivery, the order will be delivered on the set day and time.
Does DoorDash deliver on holidays?
DoorDash operates every day, holidays included. However, you might not get your order as early as you would on a regular day.
Will DoorDash give a refund for a cold meal?
Yes, it will. If by some chance, your meal was cold, stale, or soggy by the time it got to you, you can request a refund through the official website.
Tap the "help" option and select "poor food quality" under "order issues".
Does DoorDash deliver from Walmart?
No, DoorDash no longer delivers groceries from Walmart.
Conclusion
Who can help with your late-night order? Call DoorDash. DoorDash will pick up and deliver your order anywhere, any time, any day.
However, chances of getting your delivery depend on the operating hours of the restaurant and store you're buying from as most stores are closed by 11 p.m.
But if you find a 24-hour restaurant on DoorDash, keep in mind that your order may take longer because it's harder to find drivers at night. And if you find one, be ready to pay more.
Thanks for reading.
Get all the details you need on food delivery services on Cheffist.