If you are a carb lover, this is your time to celebrate. After a long break due to the covid pandemic, breadsticks are back on the Olive Garden menu.
How many breadsticks can you get at Olive Garden to go? Well, Olive Graden will give you as many breadsticks as your tummy can take.
Olive Garden is known to have unlimited bread stock, but is it true? This article reviews and gives information about the breadsticks in Olive Garden.
About Olive Garden
Olive Garden is an Italian American everyday dining bistro chain. It specializes in Italian American cuisine and is a subsidiary of Darden Restaurants. The company operates 900 restaurants globally.
The brand has settled in eight locations in Canada, including Winnipeg, Manitoba, Calgary, Alberta, Edmonton, Saskatoon, Saskatchewan, Regina, Langley, and British Colombia near Vancouver.
Olive Garden serves different Italian-American cuisine, including pasta dishes, steaks, and salads. The company advertises its breadstick as the primary product and centers its lunch menu around it.
In addition, the company has announced that in each location, its soups and sauces are made fresh. This is daily instead of importing them from a commissary or outside vendor.
In June 2010, Olive Garden began to import parts of menu formats from its sibling chain; in Season 52, it began selling smaller dessert portions which it called a decline.
The producers modeled the new products after Season 52's "mini-indulgences" product line.
How many breadsticks does Olive Garden give to go?
When you get in, your waiter will bring out a bowl of breadsticks – usually one for every member of your group plus one. At Olive Garden, every customer is entitled to a basket of breadsticks even without ordering an entree.
However, if you order a main course meal, then you are allowed unlimited breadsticks in your food.
If you don't ask, the waiters will not refill your basket of breadsticks when it's empty. But, there is no limit to how many times you can ask for a refill.
In addition, you can still get breadsticks on takeaway orders at Olive Garden. Typically, you'll get two bowls of breadsticks for every main course meal you order.
If you want more, however, you can request more bowls of breadsticks, which come with 6. 
Does Olive Garden have unlimited breadsticks?
According to research, Olive Garden serves between 675 million and 700 million breadsticks in a year, which requires the chefs to do a ton of baking.
Olive Garden has an industrial-sized bread maker that cooks the dough flawlessly and keeps those golden brown beauties warm until the waiters serve them.
The bakers make a fresh batch of breadsticks every 15 minutes, so you're always guaranteed a hot one. 
Why do you have to ask for more breadsticks if it's unlimited?
You have to ask for more because the diner uses a formula to ration the number of breadsticks per basket per table.
The servers learn how to deliver food to customers strictly and adequately, bringing one breadstick per person at the table plus an extra breadstick in a basket.
The brand is particular about the number of breadsticks per person; they must abide by it.
After that, waiters will serve more breadsticks only if the customers ask. The waiters also monitor the number of breadsticks supplied at each table to avoid waste.
Though many customers still ask for more after their first allotment of a single, delicious breadstick, the chain — and the customers — would save a lot if they did stick to only one.
Can you take home breadsticks from Olive Garden? 
Yes, you can take your leftover breadsticks home. However, the waiter will not refill your breadsticks when you're leaving.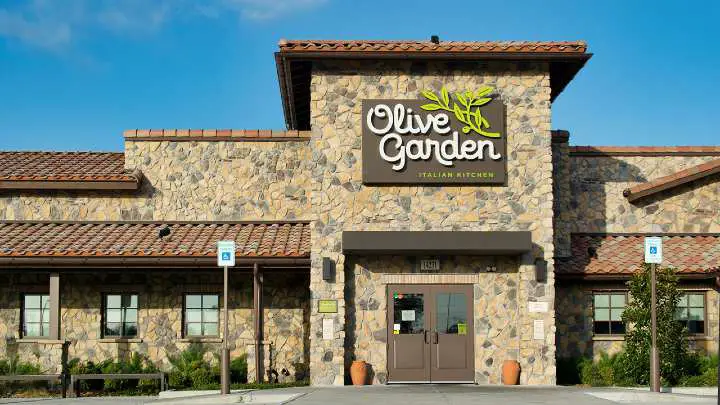 What makes Olive Garden's breadsticks special?
Olive Garden's breadsticks are always served fresh. A fresh batch of breadsticks is prepared every 15 minutes and they are kept warm in the bread maker until they are ready to be served.
It is possible to make a fresh batch every 15 minutes because of the many breadsticks requests they get.
Are Olive Garden breadsticks healthy?
One breadstick from Olive Garden contains 140 calories, 3 grams of fat, and 11 grams of carbohydrates.
This number of calories and carbs may be healthy or not, depending on your recommended daily calorie and carbs intake.
Can you reheat Olive Garden breadsticks?
Yes, you can. You can get breadsticks from Olive Garden and reheat them at home.
Cook the breadsticks at 350°F for 5 minutes until they are warm, fluffy, and soft. Reheating breadsticks is more effective when you do it in a paper bag.
FAQs
How many breadsticks does Olive Garden sell each day?
Olive Garden sells about nine million breadsticks each day.
Why are breadsticks special?
They are special because they are shareable appetizers. You and your group can grab one and enjoy it. Also, they are served fresh.
Do Olive Garden breadsticks have sugar?
Yes, they do. One breadstick from Olive Garden contains 1 gram of sugar.
Can you make your breadstick?
Yes, you can make breadsticks at home with any of the online recipes.
Are breadsticks vegan?
Yes, they are vegan. These do not need any modifications whatsoever because the ingredients are animal-free.
Conclusion
The Olive Garden has grown famous because of its special breadstick. This breadstick tastes very lovely, and it's because of a secret. It's all about the concoction that gets drizzled on the top.
While you can make the sweet sauce with melted butter and garlic salt, you can't copy it. You can't mimic the recipe because it's impossible to find this type of garlic salt in grocery stores.
It turns out it's a variety made just for the breadsticks, and fortunately for them, the formula is hidden from the public eye. If you're trying to recreate the brand's exact taste, you are out of luck.
However, you can get unlimited breadsticks at Olive Garden to go as long as you are dining there.
Thank you for reading.
If you want more information on bread and freebies from your favorite restaurants, visit Cheffist for more related articles.