David Vincent Taylor came up with the MexiMelt, a specialized menu dish that was previously offered by Taco Bell. However, Taco Bell has discontinued the production of MexiMelt.
MexiMelt resembled a combination of a quesadilla and a Fresco Soft Taco. It was similar to a Fresco Soft Taco in because it included a flour tortilla, seasoned ground beef, and fiesta salsa, but it also had a quesadilla's melted three-cheese mixture.
In this article, you will see if you can get MexiMelt at Taco Bell and how to go about it.
What is MexiMelt?
Taco Bell has a specialized menu item called the MexiMelt. It is a flour tortilla filled with seasoned ground beef, pico de gallo, and melted cheese.
It's incredibly delicious and resembles a hybrid between a soft taco-prepared al fresco and a quesadilla.
MexiMelt contains taco meat, a soft shell tortilla, pico de gallo, and a Mexican cheese mixture.
How to get MexiMelt at Taco Bell
Taco Bell no longer sells MexiMelt. But do not be disappointed.
Other items on the menu could fill in for a delicious MexiMelt. The Cheesy Rollup will be your first choice. Adding beef or any other protein will give you the same sensation.
Pico is an additional option that you have, and it is considerably less expensive. Once you've placed your order, tell the attendant to steam and fold it like a MexiMelt, and you're good to go.
To bring back your melty taco of awesomeness, request a copycat MexiMelt that combines a taco with a quesadilla.
Additionally, by mastering Taco Bell's ordering system, you can revive this discontinued item from Taco Bell. Some people even refer to this as "hacking."
Why can't you order MexiMelt at Taco Bell anymore?
You can't order MexiMelt in Taco Bell because, after 30 years on the menu, Taco Bell removed the Meximelt in 2019.
Taco Bell decided to completely revamp its menu. In addition to getting rid of a few items, the menu's appearance was also refreshed.
Can you make a Taco Bell MexiMelt at home?
MexiMelt copycat recipes are quick and easy to make. Your preparation time will be even shorter if you take a few shortcuts.
You can grab a packet of Taco Bell's original taco spice mix for the recipe. However, I have brought the recipe to you. See the ingredients below.
Pico
Purchasing prepared pico from the grocery store is the best option for a fast cut.
Cheese
For the finest flavor and texture, you should use grating cheese that has just been cut off the block. Sharp cheddar is great, but you could also use pepper jack, plain jack, or a cheddar-jack combination.
Flour tortillas
First, warm them in the microwave to make them malleable, then stuff them with ground beef, cheese, and pico. You can also make homemade flour tortillas if you have the time.
Taco Bell MexiMelt copycat recipe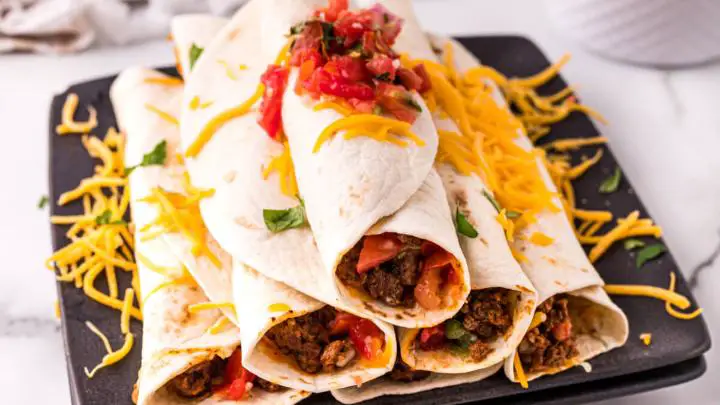 Here is an easy and simple procedure to make copycat MexiMelt:
After browning the ground beef, add the water and Taco Bell taco seasoning and stir until thickened
Spread a paper towel on a plate or cutting board and drizzle some water over it
Place tortillas on the piece of paper towel and top with cheese, taco meat, and pico de gallo
Wrap the tortillas in a damp paper towel and fold them over
Heat for 60 seconds to help the cheese melt
Your MexiMelt is ready to eat
FAQs
What is the recent $5 box at Taco Bell?
The most recent $5 box at Taco Bell is the Cravings Box. You can also create your own magnificent Cravings Box for $5.
The box includes specialties and starters. The specialties include the Cheesy Gordita Crunch, Chalupa Supreme, and Crunch Wrap. Crunchy tacos, soft tacos, beefy 5-layer burritos, or bean and cheese burritos are the starters.
What are the most sought-after Taco Bell items?
The most sought-after items on Taco Bell's menu are:
Chicken Power Bowl
Chicken Quesadilla
Bean Burrito
Crunchy Taco
Chipotle Ranch Grilled Chicken Burrito
Crunch Wrap Supreme
Soft Taco – Beef
Fiesta Veggie Burritos
What is the least popular item at Taco Bell?
The Black Bean Burrito at Taco Bell is not a well-known menu item. This is the least popular item on Taco Bell's menu, according to numerous past and present employees who post online.
What are Taco Bell's healthiest menu items?
Some of the healthy items on Taco Bell's menu include:
Crunchy Steak Taco
Black Bean Crunchwrap Supreme
Chicken Quesadilla
Veggie Power Menu Bowl
Cheesy Roll Up
Pinto and Cheese
Chicken Chalupa Supreme Fresco Style
Bean Burrito
Black Beans and Rice
Why does Taco Bell's meal make you want to poop?
Some of the ingredients used can cause a burning sensation. For some people, it can have a laxative effect and cause them to poop.
Conclusion
On a final note, even though Taco Bell has discontinued the sale of Meximelt, there are two ways to go about it.
The first option is to use the ordering hack to get your Meximelt. This means that you must master the ordering strategies of Taco Bell.
The other option is to make a copycat version in your home. The recipes are quite easy to come by, plus you can easily follow the steps and get a beautiful outcome.
Thank you for reading.
Visit Cheffist for more articles on your favorite fast-food restaurants.