Ever heard of the PF Changs allergen menu? PF Changs is one of those restaurants that try to make allergy-friendly menus. If you have food allergies, you certainly can reckon with the difficulties involved in finding a restaurant that can accommodate your needs.
The allergen menu is a compiled list of most of the ingredients, deep-fried food items, and their allergenic potential. This can help you to determine what ingredients might bother you before you eat in any PF Changs restaurant.
In this PF Changs allergen menu review, I will give you the complete list of items on the restaurant menu that are specifically made for you.
About PF Changs
PF Changs is an American-based restaurant chain that offers a blend of Chinese and American cuisine in a fun, casual environment. It was founded in 1993 by Paul Fleming and Philip Chiang.
PF Changs combines the bold flavors and fun of Chinese cooking with modern, fresh ingredients in a comfortable, casual atmosphere. Additionally, it includes the Asian concept of cooking all the recipes from scratch, every day in every restaurant.
The restaurant has varieties of great meals: from inspired improvisations on traditional dishes (Changs Spareribs) to the ultimate combination of chicken and shrimp (Private Reserve Shrimp & Chicken).
Their menu features mouthwatering appetizers like Chili Lobster Wontons and fabulous desserts like the Blackberry Bread Pudding.
PF Changs is one of the restaurants in the United States with menus that consider everyone, including people with food allergies.
What time does PF Changs open?
PF Changs Dine-in Hours:
Monday: 11:00 AM – 10:00 PM
Tuesday: 11:00 AM – 10:00 PM
Wednesday: 11:00 AM – 10:00 PM
Thursday: 11:00 AM – 10:00 PM
Friday: 11:00 AM – 11:00 PM
Saturday: 11:00 AM – 11:00 PM
Sunday: 11:00 AM – 9:00 PM
For those of you who are sensitive to any of the major food allergens, or who would simply like to know in advance what ingredients are used, PF Changs has created an allergen menu for your convenience.
PF Changs' allergen menu is a list from the restaurant that provides customers with food allergies with the information they need to make an informed decision about the food they eat.
This is an intentional effort made by the restaurant to make sure everyone has a great dining experience when they visit.
Furthermore, it'll interest you to know that many of the items on this menu have no allergens associated with them. But it will help you make the right dietary choices and eliminate any unwanted reactions whenever you visit any of PF Changs' locations.
SEE: List of Naturally Gluten-Free Foods
Main entree
Fire Braised Short Ribs
Peking Duck
Chang's Spicy Chicken
Mongolian Beef
Crispy Honey (Chicken or Shrimp)
Kung Pao Shrimp
Salt & Pepper Prawns
Pepper Steak
Sweet & Sour Chicken
Buddha's Feast (Stir-Fried or Steamed)
Ma Po Tofu
Stir-Fried Eggplant
Beef with Broccoli
Sesame Chicken
Ginger Chicken with Broccoli
Miso Glazed Salmon
Orange Peel Chicken
Kung Pao Chicken
Kung Pao Shrimp
Oolong Chilean Sea Bass
SEE: Cocktails, Beverages, Wines, & Beers Available on P.F. Changs Drinks Menu
Appetizers
Chang's Chicken Lettuce Wraps
Chang's Vegetarian Lettuce Wraps
BBQ Spare Ribs (6)
Rick's Northern-Style Spare Ribs (6)
Crispy Green Beans
Edamame
Tempura Calamari
Chili Garlic Green Beans
Kung Pao Brussels Sprouts
Dynamite Shrimp
SEE: P.F. Chang's Lunch Menu And The Asian Delicacies On It
Dessert
The Great Wall of Chocolate
Banana Spring Rolls
Chocolate Souffle
New York-Style Cheesecake
Fire & Ice
Chang's Apple Crunch
Sushi
Shrimp Tempura Roll
Dynamite Shrimp Roll
California Roll
Kung Pao Dragon Roll
Spicy Tuna Roll
Dim sum
Handmade Shrimp Dumplings (Pan-Fried or Steamed)
Handmade Pork Dumplings (Pan-Fried or Steamed)
Wagyu Dumplings
Vegetable Spring Rolls (2 or 4)
Pork Egg Rolls (2 or 4)
Hand-Folded Crab Wontons (4 or 6)
SEE: The Updated TGI Fridays Allergen Menu
Salad & soup
Mandarin Crunch Salad
Asian Caesar Salad
Shrimp
Chicken
Salmon
Wonton Soup (Cup or Bowl)
Egg Drop Soup (Cup or Bowl)
Hot & Sour Soup (Cup or Bowl)
Sides
Brown Rice, steamed
White Rice, steamed
Fried Rice
Rice & noodle
Pad Thai (Chicken, Combo, and Shrimp
Singapore Street Noodles
Fried Rice (Chicken, Beef, Vegetable, Pork, and Shrimp)
Lo Mein Vegetable
Fried Rice Combo
Short Rib Fried Rice
Signature Lo Mein (Chicken, Beef, Combo, Pork, and Shrimp)
Korean Glass Noodles (Chicken, Beef, Combo, and Shrimp)
Kids can enjoy any of the following items served with their choice of Fresh Fruit, Steamed Broccoli, Steamed Carrots, or Steamed Snap Peas.
Kid's Chicken with Honey, Sweet, and/or Sour Sauce
Kid's Chicken (Lo Mein and Fried Rice available
Does PF Changs host happy hour?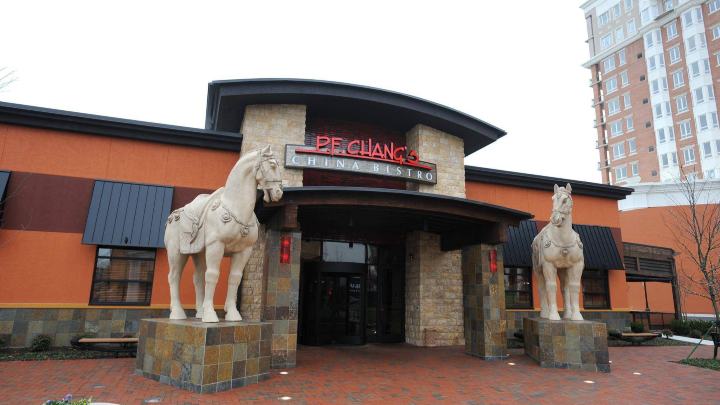 PF Chang's Happy Hour is 3 p.m. and 6 p.m., Monday through Friday. During these hours, the restaurant menu is filled with tons of food and drink specials, all from $4 to $6.
From chicken egg rolls to pork dumplings, saké shots, and gin and tonic cocktails, there are more than enough options. While this offer is available to everyone, happy hour specials, times, and prices may vary by location.
SEE: Tahoe Joes Happy Hour Offer
Yes, the PF Changs allergen menu is available all through the week including weekends. It doesn't matter the day of the week or the time of the day you visit the restaurant, you have access to varieties of food made especially for you.
SEE: Find Out What Foods Are Not Safe for You on Wendy's Allergen Menu
There are no discounts on the PF Changs allergen menu. However, you can get discounts on selected items if you visit the restaurant during its happy hour. PF Chang's Happy Hour is 3 p.m. and 6 p.m., Monday through Friday.
The purpose of happy hour is to offer customers discounted prices on the host offers. So it's the best time to visit if you want to get a discount on the allergen menu.
SEE: How to Get Amazing Deals At Restaurants
How do you order?
You can order directly online via PF Chang's official website or the mobile app. You have to put in your zip code or browse through the list of the restaurant's locations.
In other words, you can only order from their location close to you which I think is a good thing. When you make your order, you can either pick it up by yourself or have it delivered to your doorstep by PF Chang.
Note that a delivery fee will be charged if you want your order delivered to you at home or the office.
SEE: Foods That Are Safe For You on Chili's Allergen Menu
What is an allergen menu?
An allergen menu is a menu that allows customers to find the information they need to make an informed decision about the food they eat.
How do you get an allergen menu?
You can ask at the table while ordering or at the counter when you pick up your order.
Can you eat gluten-free at all PF Chang's locations?
Yes. Some of the gluten-free available at PF Changs include:
Chang's Chicken Lettuce Wraps
Egg Drop Soup (Cup or Bowl)
Chang's Spicy Chicken
Shrimp with Lobster Sauce
Pad Thai (Chicken, Combo, or Shrimp)
Singapore Street Noodles
And more.
PF Changs is known as an Asian-American fusion restaurant. They serve American, Chinese, and Southeast Asian cuisines which feature various vegan and gluten-free options. With the PF Changs allergen menu, you can now enjoy gluten-free meals at PF Changs.
No longer do you have to worry about ingredients or wonder if the dish you ordered was properly cleaned. The allergen menu at PF Changs allows you to order safely, ensuring your peace of mind as well as that of fellow diners.
Finally, perhaps you would love to taste some vegan options, I have made a complete list of Dunkin' Doughnuts vegan options for you. There's something for every vegan on the list.
I hope you found this article helpful. Thanks for reading.