What causes a self-cleaning oven to catch fire? A self-cleaning oven will catch fire due to the food scraps and grease stuck to the oven's sides.
However, self-cleaning is safe and poses no danger. Notwithstanding, if you have never had to self-clean, you should know that there are steps to follow. These are rules that need to be followed to avoid fire hazards.
As a result, if you want to learn and understand more about how a self-cleaning oven works and how to use one, keep reading until the end.
SEE: Is It Okay To See Flames Inside The Gas Oven?
What does it mean for an oven to self-clean?
A self-cleaning oven is a procedure that cleans the chamber of your oven without the use of any cleaning chemicals or much elbow grease.
It accomplishes this feat by heating to temperatures above 800°F to burn off all spills and spots, leaving a thin layer of white ash that can be easily wiped away with a sponge.
What causes a self-cleaning oven to catch fire?
A self-learning oven catches fire because of the food or grease residue adhered to the oven walls.
Therefore, when self-cleaning, be sure to avoid opening the oven door. After cleaning the oven, the blaze will eventually go out when there is no air present.
Furthermore, if your oven goes up in flames for any reason, the safety lock will prevent you from opening it until it has finished its cleaning cycle.
This implies that the fire will remain contained inside the oven and eventually burn out due to a lack of oxygen. Never attempt to extinguish an oven fire on your own.
SEE: What Is The Highest Oven Temperature You Can Use?
Is self-cleaning an oven safe?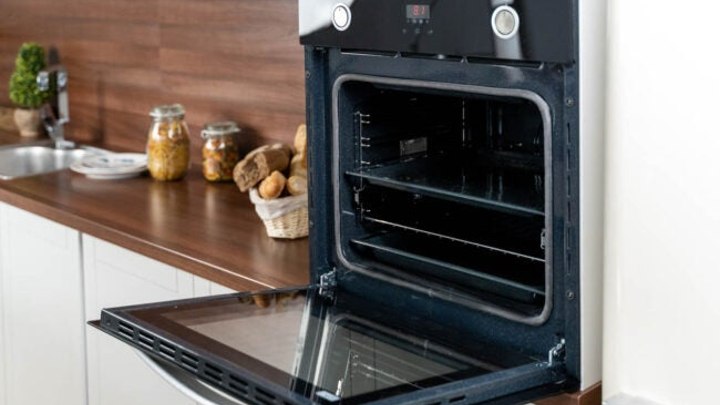 Yes, it is. You will have no problem cleaning as long as the oven brand comes with this function.
However, you must be aware that self-cleaning ovens can release toxic fumes into the atmosphere that smell like burning rubber.
As a result, anyone at home and in the kitchen area may be harmed when the cleaning process reaches a high temperature and generates fumes when burning food residue and enamel lining.
Is it safe to self-clean the oven while sleeping?
No, it's not advisable to self-cleaning an oven while you're asleep. A self-cleaning oven increases the risk of fire and injuries.
Moreover, throughout the cleaning process, it also emits smoke, fumes, and carbon monoxide. If you do not wake up on time, suffocation could result from sleeping through the fuming process.
SEE: What Does Pyrex's Preheated Oven Only Mean?
Can a self-cleaning oven harm you?
Yes, it can. You should never be in the house or with any human or pet when the oven is self-cleaning because it is toxic to the body.
What happens if you turn off the self-cleaning oven early?
You will have your oven smoking excessively with unpleasant odors if you turn it off before the oven cleans itself out.
SEE: How Do You Know When A Gas Oven Is Pre-Heated?
What is the right temperature for a self-cleaning oven?
The right temperature for a self-cleaning oven is roughly 932°F (500°C).
Do all ovens have self-clean?
No, they don't. Ovens that come with a self-clean function will come with a manual, which will indicate that the oven can perform such activities.
SEE: The Difference Between Microwave and Oven You Don't Know
How long does a self-cleaning oven take?
Depending on the manufacturer and setting, the self-clean cycle can last anywhere from 1 1/2 to 6 hours. You may have a choice of running more times on some ovens.
SEE: What is Fan Assisted Oven?
How to self-clean an oven
The best way to be sure that the prevalent spillovers and smears that happen when you use the oven do not turn into debris that can contaminate your food is to clean the oven frequently.
Also, to avoid breathing in fumes while self-cleaning, choose a time when you'll be at home but outside the kitchen or cooking area for a few hours.
Here is a guide to help you with how oven self-cleaning works.
Take out all the trays and foil
The racks typically need to be taken out and washed separately. If you leave the metal racks in, they will tarnish and become more difficult to slide.
Racks covered in enamel can be cleaned with the oven's interior. Remove all grease or food residue that has been baked onto the surface.
SEE: Win a $100 Gift Card at a Dollar General Store
Lock the oven door
You can skim it off with a non-scratch spatula. It might need to be secured with a lever, or else it will lock on its own.
By doing this, no one can open it while the cleaning cycle is in progress and get blasted by the heat.
Time the cleaning using the controls provided
The time you choose depends on how dirty the oven is. Two hours is usually enough for light cleaning. Three or four hours might be needed for a dirty oven.
After the cleaning cycle, allow the oven to cool
When the cleaning cycle is done, the oven will automatically shut off, but you won't be able to open it until it has cooled to baking-temperature levels.
Using a damp cloth, remove any ash residue. If the leftover material is loose, you can use your vacuum cleaner.
SEE: Is Broiler Drawer and Oven Broiler The Same?
FAQs
Is it safe to be in the house when the oven is self-cleaning?
Yes, it is safe to be inside the house because you must watch over it while it cleans. However, the fumes and smoke that the cleaning will produce make it unsafe to remain in the kitchen during this time.
Does self-cleaning damage an oven?
No, it doesn't. Instead, the grease and crumbs in your oven are burned and reduced to ashes by a self-cleaning oven.
Also, raising the oven's interior temperature to above 800 degrees Fahrenheit for three to five hours will get it cleaned.
SEE: Stand a Chance to Win $1,000 Gift Card Big Lots
Can you use dawn to clean the oven?
Yes, you can. You only need three ingredients, all of which you already have in your kitchen, to complete a straightforward oven clean: 1/4 cup vinegar; 1-1/2 cups baking soda; 1/2 cup dish soap, like Dawn.
Conclusion
One way to make sure that your oven is kept clean and isn't clogged with sticky and soiled food remnants is to self-clean it. The oven is purging itself of all the food debris stuck to it when it catches fire.
Furthermore, if you leave the kitchen while the oven self-cleans, it is completely safe and would present no risk.
Finally, it's important to remember that not all ovens have a self-cleaning function. As a result, if you want an oven that can clean itself, you must be careful when choosing these models.
Thanks for reading.
If you enjoyed this article, check out Cheffist for more.