Enjoy an assortment of alcohol and non-alcoholic drinks on the Texas Roadhouse drinks menu with your meals when you dine at the iconic steakhouse. 
Texas Roadhouse offers a variety of drinks that range from margaritas to import beers or just plain black premium coffee. Wondering what drinks are available on the Texas Roadhouse drinks menu? 
This article lists all the new and classic assorted drinks and beverages you can find on the Texas Roadhouse menu. 
About Texas Roadhouse
Founded in 1993 by W. Kent Taylor, who sketched out his plan on a cocktail napkin, Texas Roadhouse is an American Steakhouse that offers specialty steaks made in a Texan and Southwestern Cuisine Style. 
The steakhouse operates as a subsidiary of Texas Roadhouse Inc., which also has two other concepts. Texas Roadhouse Inc. currently has its headquarters in Louisville, Kentucky. 
Furthermore, the steakhouse specializes in making great meals from scratch at an affordable rate. The steakhouse chain also operates about 627 chains globally, with some of these locations spreading across 49 states in the United States. 
What time does Texas Roadhouse open? 
Texas Roadhouse starts its operations from 11:00 am to 10:00 pm, Mondays to Sundays.
However, Texas Roadhouse operation hours are not the same across all locations. While some of the locations open at 3:00 pm on weekdays, others open at 4:00 pm. 
The Texas Roadhouse drinks menu is a list of assorted drinks both alcoholic and non-alcoholic that are available for purchase across the steakhouse chains.
They include lemonade and iced teas, coffee, margarita, wines, beers, and in-house specialty drinks. 
SEE: How To Store Your Wine And Beverages At Home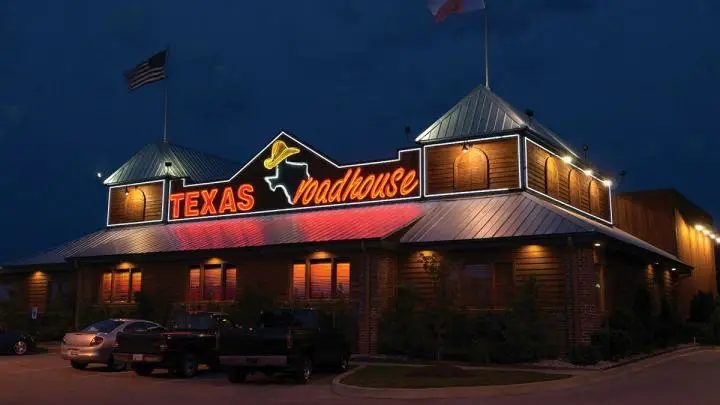 From coffee and non-alcoholic beverages to specialty drinks, you can find the following drinks on the Texas Roadhouse drinks menu. 
Coffee & non-alcoholic beverages 
Americano 
Cappuccino
Latte
Lemonade/Iced tea
Sodas
SEE: New Outback Steakhouse Drinks Menu
Bottled water
Wilkins 500ml
San Benedetto 500ml
Domestic Beers
Tiger Crystal 
Brew Kettle  
San Miguel Pale  
San Miguel Light 
SMB Super Dry 
San Miguel Premium 
Bucket of Beer (5pcs) 
Tiger Crystal & Brew Kettle
San Miguel Light & Pale Pilsen
SEE: Affordable Dine-In & To-Go Drinks on Cheddar's Drinks Menu
Import beers 
Heineken bottle
Corona 
Budweiser 
Draft beers
Heineken (250ml and 500ml)
San Miguel Light
San Miguel Pale
Red wine
Barefoot Cabernet Sauvignon
Laughing Lizard Cabernet Sauvignon
SEE: Burger King Drinks Menu And Happy Hour Specials
White wine 
Barefoot Chardonnay
Laughing Lizard Chardonnay
Frozen margaritas 
Original
Strawberry
Raspberry
Coconut
Peach
Strawberry Banana
Watermelon
Sangria
SEE: Available Drinks on Hooters Drinks Menu
Margarita on the rocks
Original
Watermelon
Sangria
Specialty drinks
Screwdriver  
Black Russian 
Kamikaze  
Texas Tea 
Long Island Tea 
Amaretto Sour  
Tequila Sunrise  
Mojito  
Whiskey Sour 
Lynchburg Lemonade 
Sangria
SEE: The Updated Buffalo Wild Drink Drinks Menu
Yes, Texas Roadhouse offers meals for children at discounted rates under its Kids and Rangers Meal menu. You can find the following kids' meals on the Texas Roadhouse menu:
All-Beef Hot Dog
Macaroni and Cheese
Mini-Cheeseburgers
Jr. Chicken Tenders
Grilled Chicken
Lil' Dillo Steak Bites
Chicken Critters Basket
Andy's Steak
Ranger Rib Basket
Does Texas Roadhouse serve desserts?
Yes, though somewhat limited, Texas Roadhouse does serve desserts on its menu. You can order any of these desserts to go with your meal when next you visit Texas Roadhouse:
Granny's Apple Classic
Strawberry Cheesecake
Big Ol' Brownie 
No, Texas Roadhouse does not offer daily specials on its menu. The restaurant, however, offers chicken specialties and seafood specialties. 
SEE: The Latest Texas Roadhouse Gluten-Free Menu
Does Texas Roadhouse host happy hour? 
Yes, Texas Roadhouse offers happy hour deals on its drink menu from 4:00 pm to 6:00 pm, Monday to Friday. Also, the happy hour discounts are on margaritas and domestic beer drafts.
SEE: All You Can Enjoy During Tap42's Happy Hour
Yes, Texas Roadhouse offers the same meals during the weekend as the ones on its menu on weekdays. However, there may be weekend specials based on the location of the restaurant you visit. 
No, besides the Country Dinner menu, there is no special menu offered by Texas Roadhouse. The following meals are on the Texas Roadhouse Country Dinner Menu;
Grilled Pork Chops
Pulled Pork Dinner
Country Fried Sirloin
Beef Tips
Country Veg Plate (You are allowed to select a total of 4 side items – one salad only) 
Yes, in addition to the discount on the drinks offered during happy hours, Texas Roadhouse also offers occasional discounts or special offers on its menu. 
In addition, you can register to become a Texas Roadhouse VIP member, to receive the latest info on offers and discounts.
SEE: How To Get A Discount During Happy Hour At Chili's
How to make an order from Texas Roadhouse
To order your favorite drinks from the Texas Roadhouse drinks menu, all you need do is visit the official website, select your location, place your order, then, you can go pick it up. You can also follow the same process on the Texas Roadhouse mobile app. 
FAQs
Can you make reservations at Texas Roadhouse? 
No, you cannot make reservations ahead of time at Texas Roadhouse. However, you can register to join the wait-list online thereby reducing the time you spend waiting for a table. 
Does Texas Roadhouse deliver alcoholic drinks? 
Texas Roadhouse does not deliver drinks because they do not offer delivery services. You can however pick up your to-go meals and drinks at the location closest to you.
SEE: How to Choose Alcohol on a Gluten-Free Diet
Does Texas Roadhouse offer catering services? 
Yes, Texas Roadhouse offers catering services through party platters and large-sized orders.
SEE: Arby's Catering & Why You Should Choose Them For Your Events
Does Texas Roadhouse offer gluten-free alternatives to their meals? 
No, Texas Roadhouse, unfortunately, does not offer gluten-free alternatives to meals that contain gluten. However, the steakhouse does offer some gluten-free sides. You can also choose to remove ingredients that contain gluten from your meal.
SEE: Restaurants That Offer Gluten-Free Fast Foods
Does Texas Roadhouse offer a vegan or vegetarian menu? 
No, Texas Roadhouse does not have a dedicated menu that is vegan-friendly or one that specially caters to vegetarians. However, some of its meals can be modified to be vegan- or vegetarian-friendly. 
Conclusion
The Texas Roadhouse drinks menu is not only robust but also offers you a variety of specialty margaritas and drinks you will enjoy. 
In addition, the steakhouse offers discounts on its menu during happy hours, so you can drink as much as you like for half the price. 
However, the only downside to the Texas Roadhouse drinks menu is that you can't have them delivered to you. You either select to pick them up or enjoy them while dining in. 
Finally, I recommend that you check out the Longhorn Steakhouse menu for some great meals and delightful drinks you can get through delivery. 
I hope you found this article helpful. Thanks for reading.