Apart from the delicious variety of meals available at Twin Peaks, they also offer a robust drinks menu. If you ever wondered what makes this restaurant a favorite for many, their drinks menu is one of the many attractions.
But do you know how many and what drinks are available at Twin Peaks restaurant? Well, that's the purpose of this article.
In this article, I will share the complete list of items on the Twin Peaks drinks menu. With this information, it'll be easier to place an order during your next visit.
About Twin Peaks
Headquartered in Addison, Texas, Twin Peaks Restaurant is a family-friendly, casual dining restaurant with many locations across the United States.
Twin Peaks is a great place to go for lunch or dinner. It has a nice atmosphere that makes the great meals taste even better. You can get anything from burgers to steak and pasta dishes.
In addition to delicious food, Twin Peaks restaurant offers a full bar with many specialty cocktails, wines, and beers. At Twin Peaks, you can be sure to get friendly service and prices.
SEE: How to Get Amazing Deals At Restaurants
What time does Twin Peaks restaurant open?
Twin Peaks restaurant opens at 11:00 a.m. every day of the week. Whether you visit on weekdays or weekends, the restaurant is open from 11 a.m. till the closing hour.
While a majority of Twin Peaks locations open at 11 in the morning, the closing hour varies with location.
You can get details of the operating hours of the location you wish to visit by visiting the location page of the restaurant. All you need to get this information is your state & city, or zip code.
Does Twin Peaks restaurant serve breakfast?
While there are many American cuisines at Twin Peaks, the restaurant does not have an explicit breakfast menu. Twin Peaks does not serve breakfast.
Although the restaurant opens at 11 a.m., when many other restaurants stop serving breakfast, lunch or dinner is the only meal you can get at Twin Peaks.
The restaurant offers lunch specials from 11 a.m. to 3 p.m., Monday through Friday. Items available for lunch specials include:
Brisket chili
House Salad
Smoked pork Cubano
Drilled cheese
Ol' Fashioned BLT
Caeser side salad
Turkey avocado smash
Green Chile Chicken Soup
Note: Not all Twin Peaks locations offer lunch specials.
SEE: Does IHOP Serve Breakfast All Day and What's On The Menu?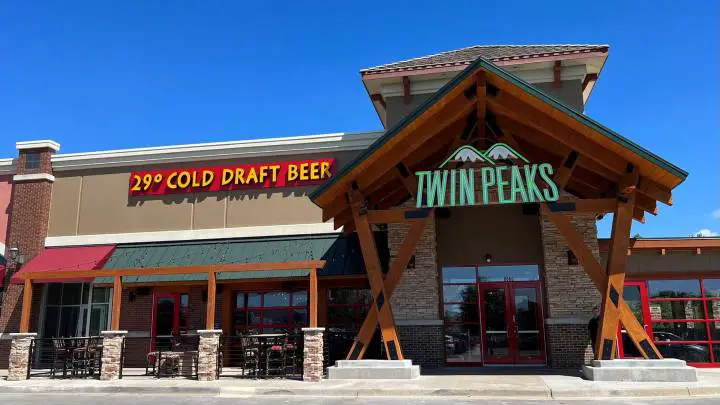 Twin Peaks drinks menu has an extensive variety of drinks which include non-alcoholic beverages, tequila, rum, scotch, whiskeys, beers, wines, shots, cocktails, energy drinks, and even bourbon.
As promised earlier, here's the complete list (according to categories) of all the items on the Twin Peaks drinks menu:
Beverages
Tea
Coca Cola
Sprite
Diet Coke
Lemonade
Dr. Pepper
Root Beer
Sweet Tea
Peach Tea
Bottle Water
Topo Chico
Coffee (plus enchantments)
SEE: Does Sweet Tea Go Bad? Learn How To Preserve Them
Wine
J. Rogét
Ruffino Prosecco
Meiomi Rosé
Woodbridge Moscato
Meiomi Pinot Noir
Velvet Devil Merlot
Clos Du Bois Chardonnay
Mark West Pinot Noir
Ravage Cabernet Sauvignon
Ruffino Pinot Grigio
Josh Cellars Chardonnay
Kim Crawford Sauvignon Blanc
Josh Cellars Cabernet Sauvignon
Robert Mondavi Bourbon Barrel Aged Chardonnay
Robert Mondavi Bourbon Barrel Aged Cabernet Sauvignon
Shots
If shots are your favorites, then you are in for a great treat at Twin Peaks. According to prices, here are the shots available at Twin Peaks:
Cheap Shots – $3.99
Tuaca
Blue Chair Bay Key Lime Cream
Deep Eddy Lemon
Deep Eddy Ruby Red
Dulce Vida Grapefruit Tequila
Fernet-Branca
Fireball Cinnamon Whisky
Jack Daniel's Fire
Jack Daniel's Honey
Jose Cuervo Silver
Jägermeister
Ole Smoky Apple Pie Moonshine
Ole Smoky Salty Caramel Whiskey
Redneck Riviera Whiskey
Rumple Minze
Southern Comfort Black 80
$9.00 Shots
Cinnamon Toast
Jager Bomb
Jameson Pickle Back
Vegas Bomb
$7.50 Shots
Kamikaze
Melon Ball
Lemon Drop
Liquid Marijuana
$6.50 Shots
Green Tea
White Tea
Sex On The Peaks
SEE: Is Alcohol Gluten-Free? How to Choose Your Alcohol
Beers
The following drinks are available in bottles:
Sol
Bud Light
Budweiser
Coors Light
Corona Light
Corona
Corona Premier
Dos Equis Ambar
Dos Equis Lager
Estrella Jalisco
Heineken 0.0
Heineken
Michelob Ultra
Miller Lite
Modelo Especial
Negra Modelo
Pacifico
Stella Artois
Angry Orchard Rosé
Budweiser Reserve Series
Drafts
Dirty Blonde
Lagunitas Ipa
Guinness Draught
Angry Orchard
Dropdead Redhead
Knotty Brunette
Shock Top Belgian White
Hazy Little Thing Ipa
San Tan Peaks Pick
Sam Adams Seasonal
Rotating Craft Handle
Four Peaks Golden Lager
Four Peaks Hop Knot
Four Peaks Kilt Lifter
Blue Moon Belgian White
Leinenkugel's Seasonal
Firestone Walker 805 Paso
Blue Moon Mango Wheat
Elysian Space Dust Ipa
Dos Equis Lager Or Modelo Especial
Deschutes Fresh Squeezed Ipa
SEE: See Why Beer Is Called Liquid Bread
Lagers
Bud Light
Budweiser
Coors Light
Corona Premier
Deschutes Da Shootz
Dos Equis Lager Especial
Heineken
Michelob Ultra
Miller Lite
Modelo Especial
Negra Modelo
Sam Adams Boston Lager
Stella Artois
Cocktails
If you prefer cocktails, Twin Peaks has a great selection.
Signature cocktails
Mojito
Negroni
Penicillin
Tito's Tea
Cowboy Margarita
Filthy Martini
Hendrick's & Tonic
Irish Trashcan
Liquid Marijuana
Tito's Bloody Mary
Peaks' Long Island Iced Tea
The mule train
Irish Mule
Kentucky Mule
Mexican Mule
Moscow Mule
Orange Mountain Buffalo Mule
Tequila cocktails
Paloma
Spicy Margarita
Patrón Margarita
Peaks' Margarita
Dobel Diamond Margarita
Old fashioned cocktails
Rum
Añejo
Maple
Bulleit Rye
Redemption Rye
Classic whiskey cocktails
Rob Roy
Sazerac
Woodford Sour
Tennessee Stud
101 Stone Sour
Boulevardier
Kentucky Collins
Manhattan
Russell's Billion
Rum
Zacapa Xo
Kraken Black Spiced
Appleton Estate Reserve
Bacardí Black
Scotch drinks
Oban 14
Balvenie
Dewars 12
Dewar's White
Glenfiddich 12
Glenfiddich 15
Glenlivet 12
Glenmorangie
Johnnie Walker Black
Johnnie Walker Double Black
Macallan 12
Macallan Rare Cask
Monkey Shoulder
SEE: Is Alcohol Gluten-Free? How to Choose Your Alcohol
Bourbon
1792
Angel's Envy
Basil Hayden
Blanton's
Booker's
Buffalo Trace
Bulleit
Eagle Rare 10
Elijah Craig
Evan Williams
Four Roses
Jefferson's Reserve
Knob Creek
Larceny
Maker's Mark
Maker's Mark 46
Old Forester
Russell's Reserve 10
Weller Reserve
Wild Turkey 101
Wild Turkey Longbranch
Wild Turkey Rare Breed
Woodford Reserve
Woodford Reserve Double Oaked
High West American Prairie Bourbon
American (whiskeys & ryes)
Are you a fan of whiskeys and ryes? See what Twin Peaks has to offer you:
Bulleit Rye
Gentleman Jack
Jack Daniel's Rye
Jim Beam
Knob Creek Rye
Redemption Rye
Sazarac Rye
Skrewball Peanut Butter Whiskey
Whistle Pig 10
Jack Daniel's Old No 7 Black Label
Energy drinks
When it comes to energy drinks Twin Peaks only sell Red Bull products. So if your favorite energy drink isn't Red Bull, you may have to go for a non-alcoholic drink instead.
Red Bull Energy Drink
Red Bull Sugar-free
Red Bull Blue – Blueberry
Red Bull Orange – Tangerine
Red Bull Yellow – Tropical
Tequila
Below is a list of the kinds of tequila you can get at Twin Peaks:
Silver
Don Julio Blanco
Herradura Silver
Patrón Silver
Reposado
Corralejo Reposado
Don Julio Reposado
El Jimador Reposado
Herradura Reposado
Patrón Reposado
Añejo
Corazón Añejo
Don Julio Añejo
Herradura Añejo
Patrón Añejo
Especial
Del Maguey Vida
Don Julio 1942
Reserva De La Familia
Maestro Dobel Diamante Blend Of Extra-añejo, Añejo & Reposado
Note: Availability of drinks varies by location.
Does Twin Peaks restaurant host happy hour?
The majority of Twin Peaks locations host their happy hour from 2 p.m. to 6 p.m., Monday through Friday. During these hours, you can visit and get some great deals at Twin Peaks.
Later in the evening, the restaurant also runs another happy hour from 9 p.m. till closing for late diners.
So, whether you want to grab a bite to satisfy your cravings or you only want to stop by for a cold drink and tasty snacks, Twin Peaks has plenty to offer throughout the day.
For more happy hour deals, you should check the hour category on Cheffist.
SEE: What Time Is Razzoo's Cajun Cafe Happy Hour?
FAQs
What can you get during the Twin Peaks happy hour?
You will get discounts on select food and drinks during the happy hour at Twin Peaks restaurant.
Why does Twin Peaks restaurant keep their beer 29°cold?
Twin Peaks keep their draft beer at 29°to keep it fresh and refreshing.
Can you order to-go at Twin Peaks?
Yes. To-go is available at Twin Peaks for any meal you order.
Conclusion
The Twin Peaks drinks menu is an extensive one, even by the standards of an eclectic restaurant. So it might throw you off a bit when looking for something specific.
The drinks menu has a lot going on, from drinks like the El Jimador Reposado to the Skrewball Peanut Butter Whiskey. If you prefer such drinks, great.
But if you're a little more serious about your shot, or beer (or in this case a "scotch"), Twin Peaks has a lot that will appeal to you. Indeed, there's always a drink for anyone at the restaurant.
I hope you found this article helpful. Read more content on Cheffist.
Thanks for reading.