Ever wondered what Burger King chicken nuggets are made of?
Burger King chicken nuggets are made of chicken or white meat slurry. This chicken slurry is chicken and some other ingredients mixed together to form a paste with an enzyme that glues them together.
If you want to know more about Burger King chicken nuggets, how they are made, all the chemical and ingredient that goes into them, and if they are healthy for you, this article is for you.
About Burger King
Burger King, formally known as Insta-Burger King, is a multinational food restaurant in America. The company was founded in 1953, with the head-quarter stationed in Miami Dade County, Florida.
Due to financial reasons, Insta-burger king was sold to David Edgerton and James McLamore. Then the name was changed to Burger King and has since been known worldwide with over 17,000 outlets globally.
Burger King is currently owned by Restaurant Brands International. The restaurant chain is known for a number of products, such as hamburgers, French fries, milkshakes, desserts, salads, breakfasts, and chicken.
SEE: Burger King Drinks Menu And Happy Hour Specials
What are chicken nuggets?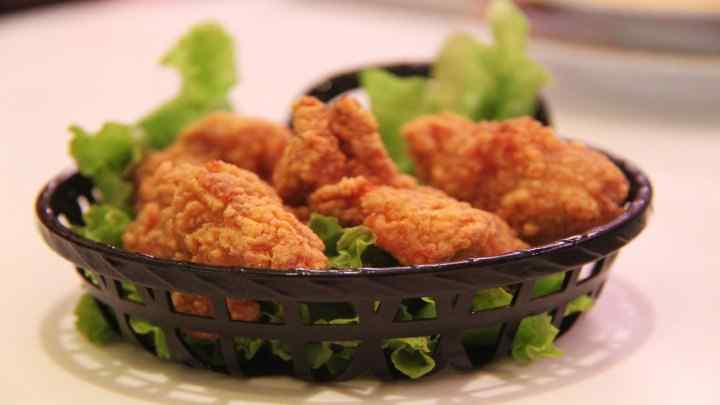 Chicken nuggets consist of chicken pieces that have been deboned, then breaded and battered. Afterward, it is deep fried or also baked.
This dish was invented in the 1950s by Robert Baker and has since been a staple in many American homes and restaurants. Even in some traditions or cultures, there are seasons when chicken nugget is eaten to mark important occasions.
SEE: The Popular Burger King Allergen Menu
What are Burger King chicken nuggets made of?
Burger King chicken nuggets are made of chicken slurry that is battered and breaded before it is deep-fried. The following is a complete list of ingredients used in making Burger King chicken nuggets.
Rib meat
Water
Seasoning (such as yeast, flavor, potassium chloride, citric acid, yeast extract, and maltodextrin)
Salt
Food starch (that has been modified)
Sodium phosphate.
The battering and breading ingredients include;
Wheat flour (modified or enriched with niacin, thiamine mononitrate, iron, folic acid, and riboflavin)
Wheat starch (modified)
Corn starch
Sodium acid phosphate
Sodium bicarbonate
Garlic powder
Onion powder
Vegetable oil.
SEE: Can You Substitute Olive Oil For Vegetable Oil In A Cake Or Not?
What does Burger King chicken nugget taste like?
In terms of taste, Burger King chicken nuggets are considered to have a salty and spicy taste. However, people believe the taste is best when dipped in salt or honey butter.
SEE: What Are The Chances Of Getting Sick From Eating Raw Chicken?
Nutritional information on Burger King chicken nuggets
According to the US Department of Agriculture, the following is the nutritional information on ten pieces serving of Burger King chicken nuggets.
Calories: 482
Fat: 27g
Protein: 20g
Sodium: 1006mg
Cholesterol: 57mg
Carbohydrate: 39g
Sugar: 1g
Saturated fat: 4.3g
Dietary fiber: 2g
Potassium: 402mg
It also contains monosaturated fat, trans fat, calcium, iron, polyunsaturated fat, Vitamin A, and Vitamin C.
SEE: How Much Nutrients is in Pastrami
Are Burger King chicken nuggets healthy?
Well, Burger King doesn't really stand out as a healthy dish, this is because it contains a high amount of sodium and fat. That being said, it doesn't necessarily mean they are bad for you.
They have been linked to a number of health conditions such as; heart disease, diabetes, high blood pressure, and obesity.
The best way to enjoy chicken nuggets without worrying about your health is by reducing your intake. Also, you can opt to have yours with veggies and salad in order to balance out the nutrient.
SEE: Is Eating Chicken Everyday Bad?
Are Burger King chicken nuggets worth it?
Yes, they are. If eaten moderately, Burger King chicken nuggets are worth it. They are also very affordable, and they are loved by kids.
SEE: Check Braum's Breakfast Hours And Menu
Healthier Burger King chicken nuggets alternatives you can try
If you are worried about the side effects, below are some healthier alternatives you can try at Burger King. Some of which include;
1. French toast sticks
Burger King French toast sticks are way healthier than chicken nuggets. Simply stick to 3 pieces along with a glass of milk, and you are good to go.
A 3-piece serving of French toast stick holds around 250 calories and 290mg of sodium, which is less than chicken nuggets. With a fair amount of protein, enough to make you feel filled for a while.
SEE: Is Burnt Toast Good For Your Stomach?
2. Burger King hash brown
Hash brown is another healthy alternative to chicken nuggets you can try. However, it may be less filling, so it's best taken with a glass of fat-free milk alongside.
A serving of hash brown contains 220 calories, 2g of fat, and 2g of protein. It is also a good source of dietary fiber, which your body needs for various essential functions.
3. Croissan'wich
Burger King croissan'wich is a breakfast dish that consists of ham, cheese, egg, and often bacon or sausage. It is one of their lowest-calorie options, and it is considered a healthy alternative to chicken nuggets.
A serving of a croissan'wich contains a fair amount of calories and is packed with protein. However, it has a similar sodium level as chicken nuggets.
SEE: Is Chicken And Rice Weight Loss Friendly?
4. Burger
Hamburger or cheeseburger are also alternatives to try, with calories and fat, which is relatively low. However, you should avoid taking this dish alongside sauce as it may increase the calorie size.
A serving of Burger King hamburger or cheeseburger contains around 250 calories and 450mg of sodium.
5. Bacon cheeseburger (without the buns)
Bacon cheeseburger without the buns is made particularly to target those on a keto diet. This is because, without the buns, it contains lower carbs and calories count, which makes it keto diet-friendly.
SEE: Are Medium Rare Burgers Safe?
FAQs
Why are Burger King chicken nuggets so cheap?
They are cheap because the cut or part of the chicken used is relatively affordable. Also, many believe it is a ploy to key in more customers as the competition for chicken nuggets is tough.
Are Burger King chicken nuggets made of real chicken?
Yes, they are. According to Burger King, their chicken nuggets are made of 100% lean meat chicken.
Why do people eat Burger King chicken nuggets so much?
Because of the chemicals used in preparing them. Aside from the fact that they are very affordable, the yeast extract and natural flavor used are known to make food taste irresistible.
Are McDonald's chicken nuggets healthy?
No, they are not. They are fatty and loaded with sodium, which makes them dangerous for your health. McDonald's chicken nuggets are also linked to a number of health conditions.
Should you stop eating Burger King chicken nuggets?
Not necessarily. If you moderate your intake, they are a delight to enjoy. Stick to 4 – 6 pieces and no more than three times a week, and you will be just fine.
Conclusion: What are Burger King chicken nuggets made of?
Burger King chicken nuggets are made of white meat chicken that is battered, breaded, and then deep-fried. They are not too good for your health; however, moderate intake is appropriate.
I strongly advise having the Burger King chicken nuggets alongside veggies and salad. You can also see in this article other Burger King menu options that are healthier to try.
I hope you enjoyed this article, if you did, you should also see if McDonald's chicken nuggets are bad for you.
Thank you for reading this article.