What do you do with spaghetti leftovers? Let's find out.
Spaghetti is one of my favorite meals. It's delicious, filling, and makes you feel like you're eating in a 5-star Italian restaurant.
The only thing about spaghetti is that there are always leftovers. And if you're like me and don't like to waste food, you need to know how to use those leftovers in new ways.
This article discusses some of the best ideas for what to do with spaghetti leftovers. Read on to find out.
What Is Spaghetti?
Spaghetti is one of the most common types of pasta, with a history dating back to the Roman Empire. It is a staple in Italian cuisine, and is also popular in other parts of Europe, including the Balkans and Greece.
Spaghetti is made from semolina flour and water, with a small amount of egg for color. It's often served with tomato sauce, but can also be served with other sauces like bolognese or carbonara.
What Can You Do With Spaghetti Leftovers?
1. Leftover Spaghetti Salad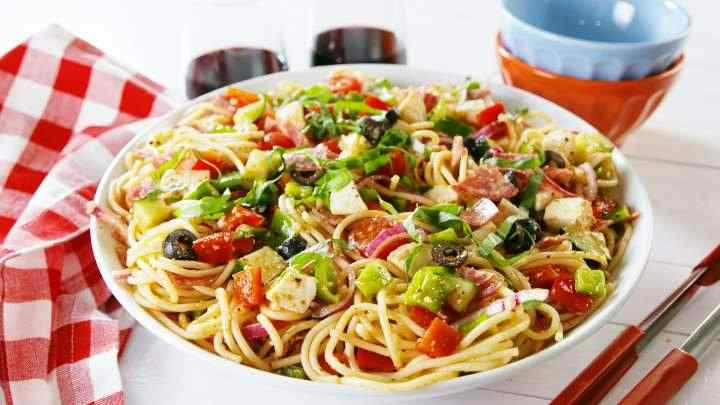 This type of salad is just like regular pasta salad, except with leftover spaghetti instead. It's also a great way to get rid of leftovers from other meals too.
If you have leftover spaghetti sauce on hand, mix that into the salad as well for an incredible taste sensation. You can also add diced ham, chopped hard-boiled egg, bell pepper, or whatever else sounds good to you.
2. Make an Omelet
This is an easy way to use up leftover spaghetti and make a tasty breakfast. Simply scramble the eggs in a skillet, then add the cooked pasta and top with cheese and other toppings (or leave plain).
3. Lemon Spaghetti
It's easy to make lemon spaghetti with leftovers. All you need to do is reheat the pasta and mix it with some lemon juice, olive oil, and Parmesan cheese. The lemon juice adds brightness to the finished dish, while the cheese gives it richness and body.
SEE: Amazing Ways to Use Pasta Leftovers
4. Leftover Spaghetti Pie
The idea of transforming leftover spaghetti into a pie isn't new (it's been around since the early 20th century). But it's still a great way to use up leftovers without turning them into something else entirely.
To make this simple dish, layer leftover spaghetti with ricotta cheese and mozzarella cheese in a 9-inch pie plate or tart pan. Bake at 350 degrees Fahrenheit until golden brown and serve hot with extra marinara sauce on top.
5. Make Spaghetti Pizza
If you want something different from regular pizza for lunch, try making this delicious meal instead. Simply throw in some eggs, tomatoes, vegetables, and mozzarella cheese.
6. Spaghetti Stir-Fry
Yes, you can also turn your leftover spaghetti into a stir-fry dish. Heat the spaghetti in a skillet with some olive oil, then add cooked chicken or shrimp. Season with garlic, salt, and pepper then cook until heated through (about 5 minutes total).
7. Make Some Sandwiches
If you have cooked spaghetti leftovers, all you need to do is reheat it. Then add some cheese and serve on bread with mayonnaise or whatever else you want. You can also add bits of meat and vegetables for added flavor.
SEE: Unique Ways to Use Leftover Beef Roast & Still Have It Taste Great
8. Use It in a Casserole
This works well if you have a large amount of spaghetti leftover from dinner. You can also add a little water or broth to help soften it if needed. However, don't add too much liquid because you don't want the pasta to become soggy from too much moisture.
9. Make Spaghetti Balls
Mix ground beef, breadcrumbs, eggs, and onions in a bowl, form into balls and fry in oil. Then add them to your sauce along with some tomato paste, oregano, and garlic salt.
10. Leftover Pasta Fritters  
To make spaghetti fritters, simply take some spaghetti leftovers, break them into pieces, and place them in a bowl. You can also add some eggs and grated cheese if you want. Mix until well combined (it will be sticky), then drop spoonfuls into a pan with olive oil.
Fry until golden brown on both sides, and keep warm in the oven while you cook the rest of the batch.
11. Add Chopped Ham
Add chopped ham or turkey sausage along with any other ingredients you like (like mushrooms) to leftover spaghetti and cook. Serve with tomato sauce or any other sauce you prefer.
12. Make Taco Spaghetti
Do you have some extra taco meat? Make taco spaghetti. Taco spaghetti is a super easy meal that you can make with leftover taco meat and spaghetti. You can also make this dish vegetarian by using black beans or pinto beans instead of meat.
13. Leftover Spaghetti Meatloaves
You can also use spaghetti in place of breadcrumbs when making meatloaves by simply tossing them with egg and seasoning before adding them to the pan or oven.
SEE: Delicious Meals You Can Make With Meatloaf Leftovers
14. Spaghetti Lasagna
It's easy to make spaghetti lasagna with leftover spaghetti. Here's the trick: Cook up a pound of ground beef and some chopped onion in a skillet.
Add some tomato sauce, water, and herbs, then simmer for 10 minutes. Add your spaghetti leftovers and a cup of cheese, and mix well. Top with more cheese, bake at 350 degrees Fahrenheit until bubbly, then let cool slightly before serving.
15. Leftover Spaghetti Cakes
Spaghetti cakes make a great addition to any breakfast, lunch, or dinner meal. In a large bowl, mix the leftover pasta and veggies. Add some beaten eggs to the mixture and stir until well combined. Pour the mixture into muffin tin cups and bake for 15 minutes or until golden brown on top.
16. Chocolate Spaghetti
Melt your chocolate in a double boiler or microwave until it is smooth and creamy. Pour the chocolate over your pasta and mix well until all the noodles are coated with chocolate sauce. Add chopped nuts if desired and serve immediately.
17. Add Spaghetti Leftovers to Fried Rice
Fried rice is one of those dishes that can be cooked using whatever ingredients you have on hand at the time. Add your spaghetti leftovers to almost done fried rice and cook until ready. Add some carrots, green peas, eggs, and seasonings to create a meal that's even better than takeout.
SEE: Tasty And Amazing Dishes to Eat With Bruschetta
18. BBQ Spaghetti
If you also have BBQ leftovers, try making BBQ spaghetti. It's a super-easy way to use up your leftover meat and spaghetti. All you have to do is reheat the spaghetti, add the BBQ, and then, add some grated cheese, bacon, and green onions.
Are Spaghetti Leftovers Still Good?
Yes, they are. If you have spaghetti leftovers, they're safe to eat for up to three days. Spaghetti noodles don't spoil easily and can be stored safely in the refrigerator for a few days after cooking.
Keep leftover spaghetti covered with plastic wrap so odors from other foods in your fridge don't contaminate it. The plastic wrap should be pressed directly against the surface of the spaghetti to prevent air from getting in contact with the pasta.
You can also freeze leftover spaghetti in an airtight container or freezer bag to make it last longer. Freezing spaghetti can cause it to lose some of its texture, but if you're looking for a way to make it last longer, this is one option worth trying out.
SEE: Get Free Food At Rubio's Coastal Grill
FAQs
How do you make spaghetti taste better?
Add salt. A little salt will enhance all the flavors of your dish — not just the pasta but also any meat or vegetables you're serving with it.
You can also add some spices like cumin, curry powder, and paprika to the spaghetti. And if you have fresh herbs on hand (like oregano or basil), add them at the end when cooking to infuse their flavors into the dish.
Is pasta the same thing as spaghetti?
No, pasta and spaghetti are two different things. Pasta is an umbrella word for pasta-based dishes, while spaghetti is a type of pasta made with semolina flour and water.
How do you eat spaghetti?
The most common method is to hold a fork in your dominant hand and use it to twirl the noodles onto your fork. The fork should be held tines down, with the handle resting on your index finger and thumb, with the other fingers curled around the curve of the handle.
The tines should be facing towards you when you use the fork to twirl the spaghetti onto it.
Conclusion
As you can see from the above, there are plenty of things you can do with leftover spaghetti. So next time you cook spaghetti for dinner and end up with some leftovers, be sure to get creative.
Thanks for reading.
Visit Cheffist for more articles on leftover foods and what to do with them.