If you've ever patronized any Wendy's restaurant, you sure have heard about their tasty frosty. One thing many people remain puzzled about is why the frosty tastes and feels like ice cream.
At the same time, it's as light as a milkshake. Regardless, the frosty is a delicious dessert some adults would rather have during Wendy's lunch hours on a hot afternoon instead of a tasty burger and fries.
If you're ready to know what exactly this delicious frozen treat is, follow me closely in this article.
What is a frosty?
A frosty is a trademark frozen treat sold at Wendy's. This frozen treat started in 1969 and has since remained through the years.
The frosty was and is still part of the original Wendy's menu plus hamburgers, chili, fries, and soft drinks. Wendy's frosty is a thick, light, cold, and creamy dessert served in a bright yellow and red cup eaten with a spoon.
Furthermore, Wendy's frosty was an original chocolate flavor but now has a vanilla variant alongside toppings like Oreos, M&Ms, and cookie dough. The main ingredients in Wendy's frosty are milk, cream, cocoa, and sugar.
Other ingredients include guar gum, corn syrup, cellulose gum, vitamin A palmitate, natural vanilla flavor, carrageenan, monoglycerides, diglycerides, calcium sulfate, sodium citrate, and dextrose.
Is Wendy's frosty an ice cream?
No, it is not. Although the frosty looks and may taste like ice cream, it is not.
Wendy's frosty contains a lower amount of milkfat compared to the amount in ice creams. In addition, some people compare it to a soft serve ice cream, but a frosty is softer.
Is Wendy's frosty a milkshake?
No, it is not.
The frosty may have the light texture and creamy taste of milkshakes, but it is not. Instead, think of it as a combination of a milkshake and an ice cream.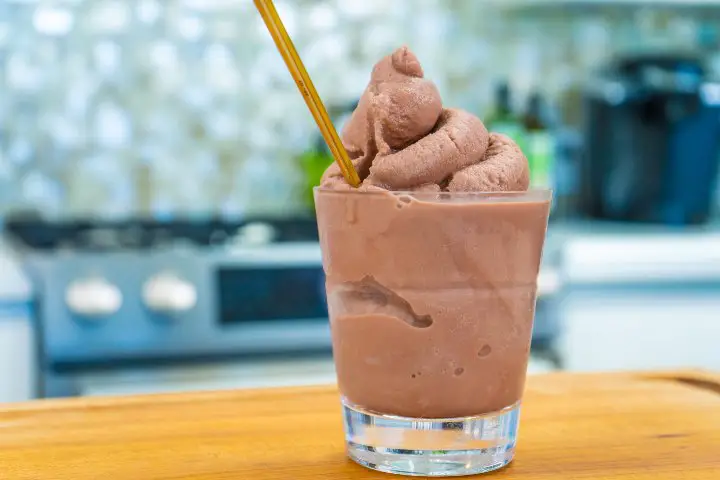 Is Wendy's frosty a drink?
Wendy's frosty is not a drink but a frozen dessert. Moreover, it has a thick texture that works best with a spoon instead of a straw.
How much dairy is in Wendy's frosty?
Wendy's frosty contains 4% milkfat which does not suffice to make it ice cream.
Is Wendy's frosty healthy?
Wendy's frosty is a delicious treat that you should eat in moderation because of its high-calorie content.
The nutritional value varies with the amount of frosty you're eating and the toppings you add.
A medium-sized original chocolate frosty (16 oz. cup) contains:
393 calories
7.7g total fat
70g carbohydrates
10g protein
9.8g dietary fiber
292mg sodium
48mg cholesterol
551mg potassium
3.1mg iron
Other vitamins and minerals
Can you make Wendy's frosty at home?
Wendy's did not make their frosty's recipe public but there are copycat recipes that you can follow to make yourself the delicious frozen dessert at home.
How to make a copycat of Wendy's frosty
This copycat recipe makes up to 10 cups of frosty.
Ingredients
1 ½ cups of frozen cool whip
6 teaspoons of condensed milk
2 teaspoons of vanilla extract
5 cups of 1% chocolate milk
Instructions
Put all the ingredients into a blender
Then, blend until you have a smooth texture
Pour the creamy mixture into a freezer-safe container and freeze it for up to three hours
Every 45 minutes, bring out the creamy mixture and whisk it until it is smooth and exactly like Wendy's frosty
When the time is up, bring it out of the freezer and serve it in cups
Add a topping like whipped cream, sprinkles, Oreos, chocolate syrup, chocolate chips, or whipped cool whip
FAQs
Is Wendy's frosty gluten-free?
Yes, it is. All the frosty flavors at Wendy's do not contain any gluten ingredients. Therefore, they are 100% gluten-free.
How much does Wendy's frosty cost?
The cost of Wendy's frosty depends on the size and type you're buying.
The average price of a small cup of Wendy's frosty is $0.99, a medium is $1.99, and a large cup is $2.29. The cost will also vary with location.
Is Wendy's frosty halal?
Wendy's frosty does not have halal certification.
However, it does not contain any ingredient that is not halal. So, it could be safe to have a cup of frosty, but you should be careful.
Conclusion
Wendy's frosty is not ice cream neither is it a milkshake. Think of a frosty as an ice cream chimera or a mix of ice cream and a milkshake.
In texture and taste, the yellow and red cup of deliciousness gives you a balance of both ice cream and a milkshake. Now that you know what a frosty is, enjoy your cup from Wendy's restaurant or a copycat version.
Thanks for reading.
Visit Cheffist to get all the information you need about your favorite items in your favorite restaurants.