Saltgrass happy hour runs from 4 p.m. to 6 p.m., Monday through Friday. Walk into Saltgrass Steak House during these hours to enjoy smokey, tasty, freshly made steaks and seafood for less.
You can also take advantage of the discount and cool off with friends over beers on taps and in bottles, wines, cocktails, and sumptuous appetizers.
There are a whole lot of menu options at a lesser price during Saltgrass happy hour. Stay with me as I walk you through the details of Saltgrass happy hour; menu, time, days, and much more.
About Saltgrass Steak House
Saltgrass Steak House is an American restaurant concept owned by Landry's Inc., with headquarters in Houston, Texas.
Saltgrass started in the year 1991 and currently has 80 locations across the United States of America.
There's so much to savor at Saltgrass, from their prime cuts of chargrilled beef to potatoes and tortilla soup, shrimp, to queso with chips and bread.
Additionally, their meals are freshly cooked, handmade, well-seasoned, and thoroughly cooked. They also have outstanding waiters who help to make customers' experiences worthwhile.
What time does Saltgrass Steak House open?
Although operating hours vary slightly across different locations, most Salthouse Steak House locations open by 11 a.m. and close by 9 p.m., Sunday to Thursday.
On Fridays and Saturdays, most locations are open from 11 a.m. to 10 p.m. So, you can treat yourself to an amazing lunch and dinner experience in Saltgrass.
What is Saltgrass Steak House happy hour?
Saltgrass Steak House happy hour is the time when you can grab cold drinks at a discount and relax solo or with friends. It runs from 4 p.m to 6 p.m., Monday to Friday.
You can't go wrong with the famous Grilled Pineapple Margarita and a plate of Fried Jalapeño as appetizers.
Visiting Saltgrass during these hours allows you to enjoy amazing discounts on all drinks from the Domestic Bottled & 12 oz. Draft Beer at $3 to the $7 Select Cocktails.
Furthermore, you can get an assortment of appetizers like Fried Onions served with Border Sauce for as low as $4.00.
However, it is important to note that the rate of drinks and appetizers during happy hour varies by location. Also, happy hour happens only at the Saltgrass bar known as "No Bull Lounge".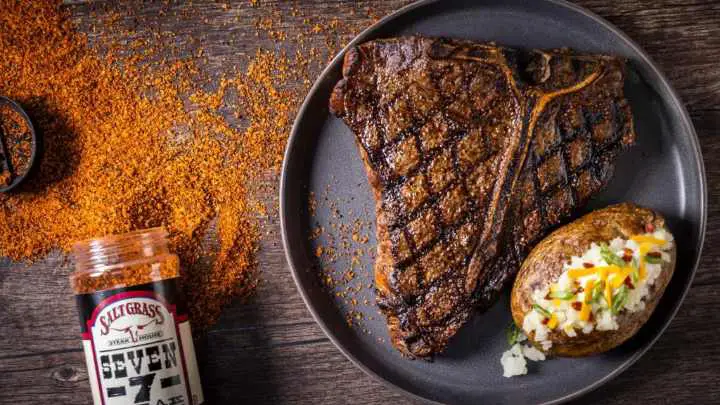 What time is happy hour at Saltgrass Steak House?
Here is a list of happy hour times for each day of the week:
Monday: 3 p.m. – 6 p.m.
Tuesday: 3 p.m. – 6 p.m.
Wednesday: 3 p.m. – 6 p.m.
Thursday: 3 p.m. – 6 p.m.
Friday: 3 p.m. – 6 p.m.
Is Saltgrass Steak House happy hour every weekday?
No, Saltgrass happy hour is only available from Monday to Friday.
Visit the Saltgrass location nearest to you during lunch hours or after work to enjoy amazing discounts on drinks and appetizers.
Is late-night happy hour available at Saltgrass Steak House?
No, Saltgrass Steak House only offers happy hour from 3 p.m. to 6 p.m.
So, if you are looking to grab a quick snack and drink for dinner, visiting Saltgrass during these hours is an excellent choice. The ambiance in the No Bull Lounge is an experience you don't want to miss.
Here are some of the appetizers you'll find on the menu during happy hour:
Fried onions
Cheese fries
Fried pickles
Queso fresco
Range rattlers
Chips
Ranch
Furthermore, here are the variety of drinks on the menu:
Domestic bottle beer
Beer by tap
Margarita
Well drinks
Wines by glass
Is Saltgrass Steak House happy hour available on weekends?
No, Saltgrass doesn't offer happy hour deals during weekends. You can only get to enjoy amazing offers on weekdays from Monday to Friday from 3 p.m. to 6 p.m.
What do you need to enjoy Saltgrass happy hour?
You do not need a ticket or anything special to enjoy the happy hour deals at Saltgrass.
All you need is your availability during these hours to partake in the happy hour offer.
Also, don't forget that the happy hour rate only applies to the bar where you can enjoy a delicious cold beer, the famous grilled pineapple margaritas, wine, and appetizers.
FAQs
Is happy hour at Saltgrass available during the holidays?
No, happy hour is not available for select holidays or holiday weekends. It is strictly between the hours of 3 p.m. to 6 p.m., from Monday till Friday.
When does Saltgrass Steak House serve lunch?
Saltgrass Steak House starts its lunch menu by 11 a.m. when it opens and stops before early dinner starts.
Does Saltgrass Steak House take reservations?
Yes, they do. Saltgrass Steak House allows customers to make reservations ahead of time. But you should reverify your reservation before you get to the location.
Conclusion
You get the chance to enjoy an exclusive cocktail, margaritas, and beer on tap at pretty steep discounts when you visit Saltgrass during happy hour.
Also, you can treat yourself to a plate of well-seasoned appetizers like the queso fresco served with chips or cheese fries with ranch at lesser rates.
Additionally, you gain access to the No Bull Lounge where you can watch your favorite games on television. It's a whole pack of fun and a wonderful experience at Saltgrass during happy hour.
I hope this review helped. Thanks for reading.
Need more happy hour reviews? Visit Cheffist.