Do you know how to carry out the blind baking of puff pastry? If you answered yes, you must be an experienced pastry lover and cook. And if your answer is no, don't worry; this article will help you learn more about blind baking.
Blind baking is a technique few people are familiar with. It is not a topic of interest and does not frequently come up at Thanksgiving, the cookout, or even Christmas dinners.
This baking method is unique, which is why you must be well-versed in pastry and confection techniques to know so much about it.
As a result, this article is set to assist you in learning more about what it means to blind bake pastry and how it is done.
What is blind baking?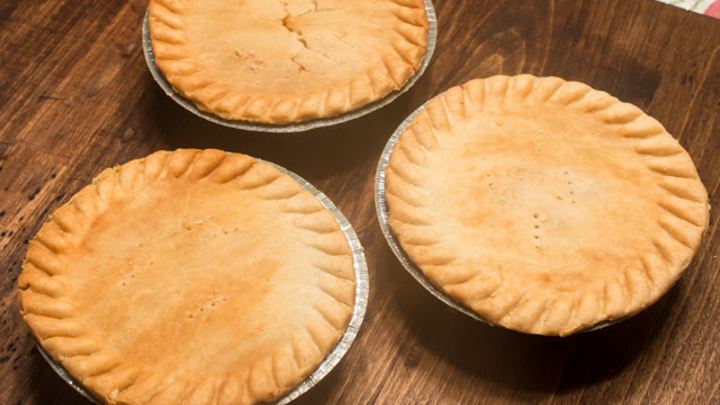 The process of baking a pie crust or other pastry without the filling is known as blind baking, also referred to as pre-baking.
When making fruit pies, blind baking helps in preventing a soggy bottom crust. Pie crusts and tart shells are the most common that requires blind baking.
Blind baking involves lining the pie crust with parchment paper, filling it with uncooked beans or rice, and then baking the whole thing. This stops the crust from expanding during baking.
And after baking, the raw rice or beans are taken out, and the pie crust is then filled. A pie weight can also be used in place of the beans or rice.
SEE: Can You Bake Premade Graham Cracker Crust or Not?
How to blind bake puff pastry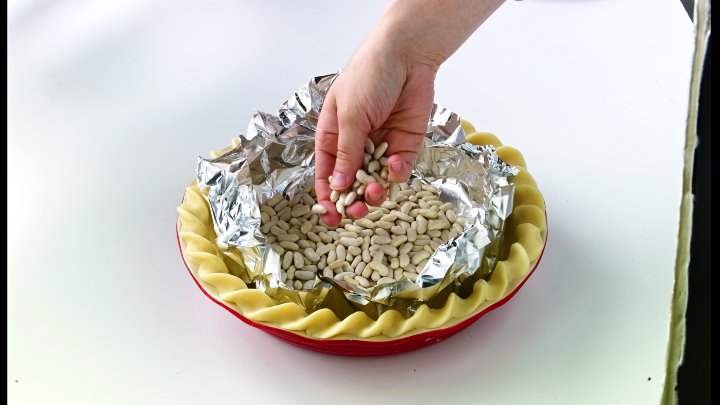 The pastry should be rolled out to a width of 4cm (1.5 inches) wider than the pan it will line. If the pan is deeper, you'll need to roll it even wider.
After this, you should:
Lift the pastry with the rolling pin and place it over the baking pan.
Using your fingertips, press the pastry into place.
Then, use a rolled-up ball of flour-dusted pastry trimmings to push the pastry into the corners.
Leave some dough hanging over the pan sides.
With a fork, prick the pastry case's base all over.
Preheat the oven to 200°C/392°F/gas mark 6 or whatever temperature is specified in the recipe you're using.
Use baking parchment to line the pan while baking beans or rice are placed inside.
Remove the beans, and continue baking for an additional 5 mins or until the pastry is golden brown and biscuit-like or for about 15 minutes or until the pastry is firm.
Before filling, trim off any extra pastry using a tiny, serrated knife.
SEE: The Difference Between a Pan Pizza and Deep Dish Crust, Dough
Can you use cling film for blind baking?
Yes, you can. One of the most practical and reliable materials available for blind baking is cling film. It is like an oven-safe film, and it allows plain flour inside.
Can you blind bake without beans or rice?
Yes, you can. Pie weight can be used in place of beans or rice to help hold the bottom of the crust for the filling.
SEE: Can You Freeze an Apple Pie?
How long does it take to blind bake puff pastry for pie?
It takes about 15 minutes to bake or until the pastry is firm.
Is blind baking the best method for pastry?
It is, without a doubt, one of the effective techniques. Blind baking is required in two situations: when making a custard pie and when the pie filling is unbaked.
What happens if you don't blind bake?
Nothing. Blind baking is a method that you can use or not use.
However, when you use blind baking, and it is done correctly, the technique allows the water in the pastry butter to escape and puff between the layers before the gluten medium sets the shape of the dough.
Although, if the pie is not properly cooled after this, the butter won't be in the right place to puff the layers, giving the dough a mealy texture.
SEE: Get A Chance To Win a $500 Gift Card At Giant Foods
FAQs
Do you need to blind bake rough puff pastry?
It is best to always blind bake the bottom crusts of your rough puff pastry, even though it is not required at all times. The crust bottom becomes more consistently crispy and flaky this way.
Additionally, because pies are a common pastry around the country, the bottom is what folks see when they receive the pastry; therefore, it must be done correctly.
What happens if you blind bake without weights?
It's not as simple to blind bake a pie crust as you think. Pie crust is delicate, and improper blind baking will result in breakage, bubbling, or shrinkage when it is baked.
SEE: Stand A Chance to Win a $500 Food Lion Gift Card
Do you let pastry cool after blind baking?
Yes, you do. When the pastry is finished baking, place it back in the oven on a lower shelf for about five minutes or until the base is sandy to the touch and appears dry but has not yet turned any color.
After a little while, take the food out of the oven and let it cool a little before using it.
Can you use foil for blind baking?
Yes, you can. To blind bake pie crust, line the crust with tinfoil long enough to completely encircle the sides, then layer pie weights on top.
SEE: Stand a Chance to Win a $100 Safeway Store Gift Card
Conclusion
To achieve a crisp, golden crust that can withstand soft, creamy fillings, blind baking is essential when baking pies.
Furthermore, this method of baking is excellent because it enables your pie's filling to keep properly. To hold the air up for the filling while blind baking, you'll either need pie weight, baking beans, or uncooked rice.
Also, the primary reason blind baking is superior to other techniques is that it gives your pie crust a very attractive bottom.
Moreover, blind baking is not the same as par-baking. Some people believe it is, but blind baking puff pastry is a complete baking process. Meanwhile, par-baking is a partial baking process. They are not the same and should not be treated as such.
Thank you for reading.
If you enjoyed reading this article, view Cheffist for more.