Can you mail cookies? The truth about cookies is that they never taste bad and they can be made in exciting flavors. My mother never missed making some on Sundays and here I am now doing the same thing for my kids. In fact, I went further into making sure we eat cookies before every dinner. That's to show you how much we love cookies. We never got tired of eating cookies, not even for once.
Here's when I noticed cookies could be mailed. Last winter, my mother hinted that she's gonna come visit because she craved some servings of my cookies especially because my kids never stopped gisting her over the phone about the new flavor I made for them. Then I surprised her; a few days before her arrival I mailed some cookies to her. You know the rest of the story – she requested I mail in some more.
Well, I never knew I could mail cookies till that moment, and several times I had done so to friends and relatives who wanted some. Call me a guru because now I know many ways to mail cookies and the types of cookies to mail. Read on!
Can You Mail Cookies?
Yes, you can. Cookies are treats that can be mailed any distance. The treats are not as perishable and if packaged properly, can be sent to any place within and outside the country.
If you are worried about preservation or your cookies going bad before they get to their destination, all you have to do is package and label properly. You get to avoid sending bad cookies. Also, mailing cookies is not as hard as you think, however, it does require paying attention to details to avoid travel mishaps.
How to Mail Cookies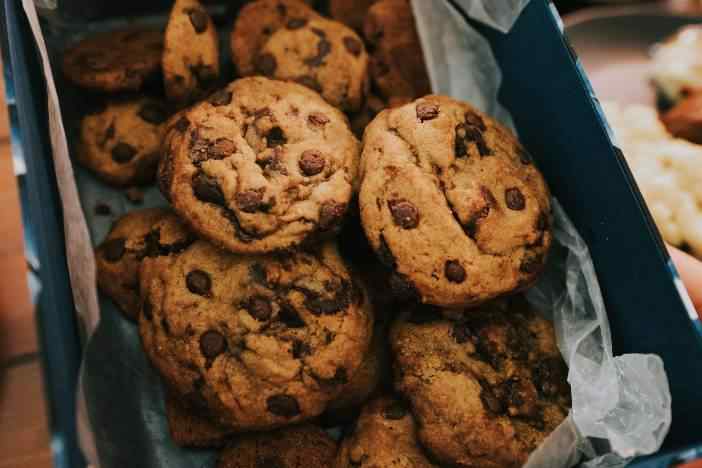 1. Carefully choose your cookie
I wouldn't want to break your heart but you have to know this. Not all cookies can be mailed. While you might be eager to send all your cookies to your family or friends, do not send buttery cookies that will crack along the way.
My first trial at mailing cookies had a little glitch because at arrival mother told me they had cracked but she loved them still. I do not want you to make the mistake I did so you should carefully select strongly baked cookies like the bar cookies and hefty cookies.
Here is a list of cookies you can mail to anyone
| Cookies You Can Mail | Cookies You Cannot Mail |
| --- | --- |
| Mandelbrot | Buckeye cookies |
| Mrs. Sigg's Snickerdoodles | Cookies with icings |
| Big Soft Ginger Cookies | Chocolate laced cookies |
| Brownies | Cookies with frostings |
| Cranberry Pistachio Biscotti | |
| Keto Peanut Butter Cookies | |
| Brown Sugar Cookies | |
| Coconut Macaroons | |
| Crunchy cookies | |
| Pignoli Cookies | |
| Ashley's Chip Cookies | |
| Oatmeal Cookies | |
| Peanut Butter Chocolate Cookies | |
| Chewy cookies | |
| Citrus Shortbread cookies | |
| Gingerbread Biscotti | |
2. Bake your chosen cookies
The next thing on the action table is to bake your desired cookies (whichever flavor you want but let it be on the "cookies you can mail" list).
There are many awesome ways to bake cookies but here's mine in simple steps;
Sift and whisk all dry ingredients you want to use. Such as cocoa powder, baking soda, and flour.
Get the quantity of butter and sugar you wanna use and mix them before adding eggs. When you are done leave it in warm water to give it a little heat.
The next stage is to add your vanilla and milk if it is the flavor you want.
Add nuts and chips to all your mixings.
Finally, mold your cookies into the desired shape and bake.
Hint: Always remove your cookies from the oven a minute early. It retains its freshness.
SEE: Are There Chocolate Chip Cookies Without Brown Sugar?
3. Choose a safe courier
The goal is to get your tasty cookies to your loved ones. Therefore you should make sure the delivery or shipping service you choose has genuine records of customer satisfaction. Here are 3 courier services to ship your cookies.
4. Pack neatly
This is the most important aspect of mailing your cookies. Cookies are fragile and they get cracked or get broken when they are not well packaged for delivery.
You shouldn't rely so much on the fact that shipping cargoes are trusted to ensure that goods given to them are delivered safely. Play your role by packing the cookies properly to avoid damage.
A Ziploc is the best storage bag to use for cookies. Separate all flavors if you are mailing more than one flavor to stop the scent of one flavor from absorbing that of another.
If you do not want to use a Ziploc bag, an air-tight tin can also be used. Whichever one you choose, make sure there are no spaces left in them. Fill them up with cookies, pieces of bread, or bubble wrap to prevent them from cracking. In each Ziploc bag or tin, insert tissue at the base to give your cookies balance.
5. Pay attention to size
It is necessary to take note of the sizes of your cookies. Put the larger ones below while, the smaller and lighter ones go above the bag.
6. Send only fresh cookies
You might want to ask how you could make sure your cookies stay fresh even if they get there 2 days later. Here's my secret, at every 5-8 layers of every cookie, I place a piece of bread.
The bread in the storage bags will make the cookies stay fresh till it reaches their destination. Use only faster shipping services to be on the safer side.
7. Pad your shipping container
This should be done when all is set for delivery. Give the containers holding your Ziploc or tins extra padding. It is to ensure your cookies will land at your friend or relative's place intact.
8. Put instructions
I always wanna give a proper description of my cookies wherever I send them. So I make sure I put instructions and labels of flavors on exact containers or bags. Besides, it is recommended by US Postal Service to label goods as either perishable or non-perishable above the address, below the postage stamp, and bottom of the package.
SEE: Ways to Refrigerate Your Butter
Frequently Asked Questions
Can you mail cookies overseas?
Yes, you can. Your cookies can go anywhere in the world if they are well-packed. Ziplocs and air-tight tins like the Pringles cans should be used to keep your cookies intact when mailing to far parts of the world.  
2. Can you mail cookies in an envelope?                      
No, you cannot. It looks good to place cookies to be mailed through an envelope but the truth is that it can't. Envelopes are not the best storage pack for mail cookies. They should only be used for letters. The right mailing containers for cookies are tins and Ziplocs as I said earlier.
Should you freeze Cookies before shipping?
I would not advise freezing your cookies before shipping. Well, unless you are sure the shipping service will keep it frozen for you till it gets to its destination. But if not, do not freeze your cookies before shipping. Once it gets thawed, it leaves room for spoilage and poisoning from bacteria infestation because of moisture.
How much does it cost to mail cookies?
The price varies depending on the shipping agent or service you are hiring. However, on an estimate, the price ranges from $5 to $15.
The cheapest shipping method for cookies under one pound after being weighed is the USPS First Class Package. But for the cookies above one pound, the USPS Priority Mail Cubic is the best shipping option.
Is it legal to mail cookies?
It is very much legal to mail cookies as long as you do not attach contrabands with them.
Conclusion
Surprising your friends and relatives with mailed cookies is one of the best ways to show love and have fun. While you would think it's not possible or safe to send cookies, it's amazing what you can do with proper planning.
However, packaging good cookies and labeling them properly would help the courier in handling the cookies with care. Therefore, before you use a postal service, be sure to mark every lit down.
Now tell your friends and relatives how much you cherish them by mailing some of your delicious cookies.
Thanks for reading.
Liked this article? You can read more kitchen guides here on Cheffist.