What comes to mind when you think of paprika bell pepper? Can you spot it in a recipe or at the grocery store? Perhaps you imagine a red spice, yet you wonder if paprika is different from paprika bell pepper. The short answer is yes.
Paprika bell pepper is also known as sweet pepper and can add a lot of flavor to your dish.
This is your best opportunity to know why this spice is special. So, don't stop here – keep reading to learn more.
What is paprika bell pepper?
Paprika bell peppers are a type of no-heat spice made from red bell pepper that has been crushed to powder. It is mostly used in Hungarian cuisine and pairs well with dishes like chicken paprikash.
The spice can add flavor and color to dishes. It has a sweet, earthy flavor and faintly bitter taste and is commonly used in salads, salsas, and as a food garnish.
The bell pepper spice is named after the spice paprika, which is made from dried, ground peppers of the capsicum annum family. When shopping for red bell peppers to make paprika spice, look for ones that are bright in color and have smooth, glossy skins. 
Avoid peppers that are dull in color or have wrinkled skins, as these may be signs of age or damage.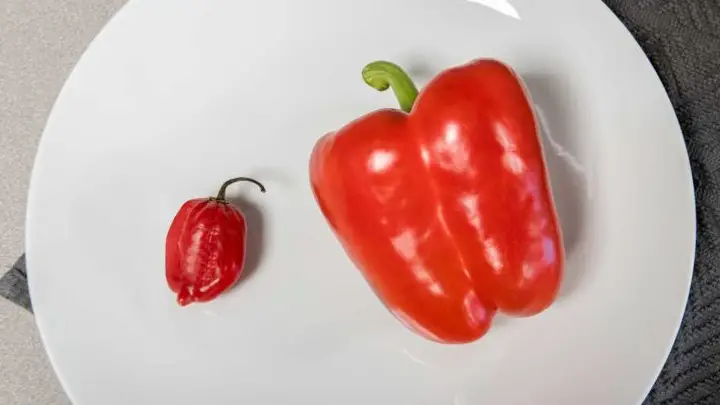 SEE: Types Of Pepper, Uses, And Spice
Benefits of paprika bell pepper
Sweet paprika is an excellent source of antioxidants and vitamins A and E. Additionally, it contains a good amount of fiber, potassium, and magnesium and has other health benefits like:
Boosting the immune system
Reducing inflammation
Preventing cancer
Protecting the heart
Aiding in weight loss
Improving digestion
Reducing cholesterol levels
Stabilizing blood sugar levels
Relieving pain and discomfort associated with arthritis.
How to make sweet paprika
Get your fresh red bell pepper
Peel off the skins and remove the seeds.
Place the peppers in a food processor or blender and puree until smooth.
Pour into a jar or container and store in the refrigerator for up to 2 weeks.
How to use paprika bell pepper
As a spice: Sweet paprika can add flavor and color to meals like stews, soups, casseroles, and sauces.
As a garnish: You can use it as a garnish for salads, meats, and other dishes.
In powder form: Since it comes in powder form, you can use it in baking or as a thickener for soups and sauces.
As an ingredient in spice blends: You can also add it to curry powder and garam masala.
To make paprika oil: Paprika oil is a type of cooking oil flavored with sweet paprika, smoky paprika, and other ingredients. The oil is then used to spice sauces, salad dressings, and marinades.
Paprika bell pepper vs hot paprika
The main difference between sweet paprika and hot paprika is the heat level. Sweet paprika has a fruity and no-heat flavor, while hot paprika can range from mild to very spicy.
Both are made from red peppers, but the type of pepper used will affect the final flavor and heat level.
SEE: Peppercorn vs Pepper
Paprika bell pepper vs smoked paprika
Paprika bell pepper has a sweet undertaste because it comes from sweet red bell peppers. Meanwhile, smoked paprika has an intense, smoky flavor and is made from dried and smoked peppers. It's often called Spanish paprika because it hails from Spain.
Another difference is that smoky paprika can be made from sweet, mildly spicy, or hot peppers, while paprika bell peppers are made from only sweet bell pepper.
Both peppers can add flavor to your meals, but smoked paprika is more commonly used in spice rubs and sauces.
Recipes made with paprika bell pepper
There are so many recipes that can be made with sweet paprika. This spice is perfect for adding flavor to savory and sweet dishes.
Some of the delicious recipes that feature sweet paprika include:
Roasted brussels sprouts with sweet paprika
These roasted Brussels sprouts are perfectly seasoned with sweet paprika, garlic, and olive oil. They also make a delicious and healthy side dish that is sure to please the whole family.
Sweet paprika chicken
This chicken dish is packed with flavor thanks to the addition of paprika bell pepper. The chicken is first browned in a pan and then simmered in a sauce made with chicken broth, white wine, and diced tomatoes.
Serve this chicken over a bed of rice or pasta for a complete meal.
Paprika roasted potatoes
These red potatoes are roasted to perfection with sweet paprika, virgin olive oil, salt, thyme, and garlic. They make a delicious side dish that is perfect for any occasion.
Sweet paprika salmon
This salmon dish is flavored with sweet paprika, lemon juice, and dill. It is baked in the oven until it is flaky and tender. Serve this salmon with your favorite sides for a complete meal.
Paprika spice cake
This cake is made with sweet paprika, cinnamon, allspice, and ginger. It is moist and flavorful; it makes a great dessert for any occasion.
FAQs
Is McCormick paprika sweet paprika?
No, it isn't. That is because its sweet-pepper flavor comes with some heat. Also, it's commonly used in Hungarian dishes like goulash.
How long can fresh peppers be stored in a refrigerator?
It can last for up to two weeks. Use the fresh peppers within the two-weeks window to avoid wrinkled and soggy peppers.
Can sweet paprika replace hot paprika?
Yes, it can. However, it wouldn't add heat to your meals like hot paprika.
Conclusion
Paprika bell pepper can add plenty of flavor to your meals. They also have zero Scoville heat units and can make your meals look colorful, even when you combine other types of bell pepper.
So, next time you're cooking or eating out at a restaurant, feel free to add it to your meal.
Thank you for reading.
You can see other interesting articles here on Cheffist.