Ever wondered what kind of taste or flavor the famous Starbucks pumpkin spice latte has? Pumpkin spice latte has a very sweet taste that naturally blends with the numerous sweet spices in the beverage. 
There is a flavor bombardment along with espresso and steamed milk in the pumpkin spice latte. These include spices such as nutmeg, pumpkin, cinnamon, cloves, and pumpkin pie spice. It is then enjoyed with a topping of whipped cream. 
The purpose of this article is to provide you with all the information you need about pumpkin spice lattes and where you can purchase them.
What is a pumpkin spice latte?
Made with a mixture of numerous traditional spice flavors, the pumpkin spice latte is a sweetened coffee drink that contains espresso, sugar, steamed milk, and a topping of pumpkin pie spice and whipped cream.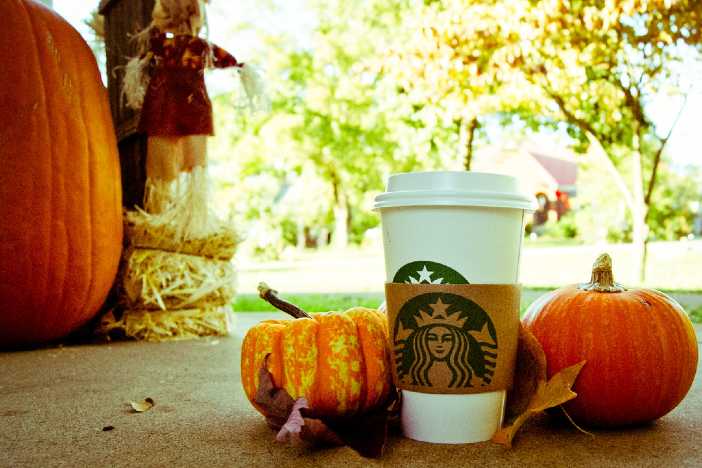 Invented and offered by Starbucks in 2003, the beverage is widely associated with the season of fall and has been adopted as a beloved coffee drink on the menu of numerous coffee shops.
The pumpkin spice latte's unique flavor has also the creation of numerous related variations also made available seasonally.
Does pumpkin spice latte taste like coffee?
No, you can't compare the taste of pumpkin spice latte to regular coffee. Despite having espresso among its ingredients, the pumpkin spice and numerous other flavors mask the coffee taste and make it a delightfully unique coffee drink worth craving.
The unique combination of spices like allspice, cinnamon, ginger, and nutmeg, has been passed around for centuries. However, it came to the commercial limelight in the 1950s when it was officially combined and marketed by McCormick.
Does pumpkin spice latte have caffeine?
Yes, pumpkin spice latte contains caffeine in addition to other ingredients like cinnamon, ginger, clove, nutmeg, steamed milk, and real pumpkin. The caffeine content of the pumpkin spice latte comes from the espresso used in making it.
In fact, your average 12 oz cup of pumpkin spice latte has a caffeine content of 75 mg. This is the same caffeine content present in a shot of espresso.
Is pumpkin spice latte vegan?
No, pumpkin spice latte is not vegan-friendly as it contains steamed cow's milk. Even if you choose to replace its steamed milk with a plant-based alternative like oat milk, it won't be vegan-friendly. 
This is because the pumpkin spice syrup used as a topping for the latte also contains cow milk. According to the ingredient list made available by Starbucks, the pumpkin spice used contains condensed skim milk. 
That means that any beverage made using this ingredient cannot be friendly to vegans.
Who invented pumpkin spice latte?
The Starbucks pumpkin spice latte was developed by Peter Dukes. The pumpkin spice latter was first released to a select 100 locations in Washington D.C. and Vancouver in 2003. Since then, this seasonal beverage has expanded to Starbucks stores nationwide. 
Can pumpkin spice latte be made with plant milk?
Yes, the pumpkin spice latte can be made with dairy-free milk like soy milk, oat milk, coconut milk, or any dairy-free milk you love. However, to make the pumpkin sauce which also contains sweetened condensed cow milk completely vegan, you will have to make yours from scratch.
SEE: How To Freeze Coconut Milk Over and Over Again
Is pumpkin spice latte healthy for pregnant women?
No, pumpkin spice latte is not safe for pregnant women due to its high caffeine content and high amount of cinnamon which could result in uterine contractions. A cinnamon overload poses a risk of sending you into premature labor.
Additionally, other ingredients and substances that you can find in PSL have been found to be unhealthy for pregnancies in large amounts. An example is Sabinene, a compound found in pumpkin spices such as nutmeg, or eugenol which you can find in cloves.
SEE: Does Almond Milk Truly Contain Estrogen
Who sells pumpkin spice latte?
Starbucks remains the most popular retailer and the original home of pumpkin spice lattes. The coffee chain's pumpkin spice latte drink is world-renowned and has become a traditional drink that comes out at the beginning of the fall season. 
Fans of this beverage typically anticipate the release of this iconic seasonal beverage each. However, Starbucks isn't the only coffee business that offers this novelty drink. Other businesses that sell the pumpkin spice latte include;
Dunkin'
Einstein Bros.Bagels
Caribou Coffee
Panera Bread
The Coffee Bean & Tea Leaf
Biggby Coffee
McDonald's
Dutch Bros Coffee
Tim Hortons
Peet's Coffee & Tea
Who has the best pumpkin spice latte?
Starbucks still offers the best pumpkin spice latte in the coffee industry. Despite having numerous competitors, the PSL offered by Starbucks remains unbeaten.
How is a pumpkin spice latte made?
To make the pumpkin spice latte at the comfort of your home, you need the following ingredients;
Espresso
Steamed milk 
Traditional autumn spice flavors (nutmeg, clove, and cinnamon)
Whipped cream 
Pumpkin pie spice 
Sugar
Vanilla extract 
Step 1
Start preparing the PSL by mixing your milk with sugar, pumpkin puree, pumpkin pie spice, vanilla extract, and autumn spices, then heat the mixture on a stove.
Step 2
Now add a shot of espresso to the hot mixture of pumpkin spice milk and mix again. After mixing, top it with some whipped cream and enjoy your beverage. 
FAQs
Is pumpkin spice latte safe for diabetics?
Due to its high sugar content, pumpkin spice latte is not recommended for diabetics. A medium-sized pumpkin spice latte contains about 50 grams of sugar which surpass the daily recommended sugar limit for an average person. 
Is pumpkin spice latte gluten-free?
Yes, the pumpkin spice latte is a gluten-free coffee drink as it does not contain any barley, wheat, or rye. It also does not contain any gluten-related products like malt. This makes it an enjoyable drink for those on a gluten-free diet.
Can dogs take pumpkin spice latte?
No, pumpkin spice latte contains a blend of spices like ginger, nutmeg, cloves, and allspice that can cause health complications in dogs. Pets should not be fed spices like cloves or nutmeg as they can cause liver damage.
Conclusion
The pumpkin spice latte's unique taste has been a subject of discussion for years. While some find it to be a delightful concoction of seasonal flavors that warm both the body and soul, others declare that it tastes like artificial spices and chemicals.
Still, it remains a famous and beloved beverage that you can use to help ease your transition into fall (or prepare for winter). However, the presence of cow milk makes it a beverage avoided by vegans and people with lactose intolerance unless modifications are made. 
If you are lactose intolerant but would love to enjoy this tasty beverage, substituting cow milk with non-dairy milk and making your own pumpkin sauce would solve this. Here's all you need to know about almond milk and why it serves as a suitable substitute for regular dairy.
I hope you found this article helpful. Thanks for reading.