Do you want to know what is available on the KFC drinks menu? If yes, you're in the right place.
As an iconic fast-food restaurant, it's only natural that you want to know all they have to offer, especially if you're an unrepentant KFC lover.
While you can expect some drinks like Pepsi, Lemonade, or Dr. Pepper to be on the list, do they offer alcoholic drinks? Does KFC have cocktails? Can you get coffee at KFC?
In this article, you'll find a complete list of items on the KFC drinks menu. If you also want to know if they offer happy hours, this is the place to find out.
So, read on to see all the details you want to know.
About Kentucky Fried Chicken (KFC)
Kentucky Fried Chicken is a fast-food restaurant chain in the United States. It is a subsidiary of Yum! Brands, Inc. Harland Sanders established the business in 1952 in North Corbin, Kentucky (this is how the nickname came about).
KFC is currently headquartered in Louisville, Kentucky with over 25,000 restaurants in more than 154 countries and territories of which over 3,500 of them are in the United States.
KFC is known for its fried chicken products, as well as the Kentucky original recipe. But its menu also contains a variety of items such as sandwiches, cole slaw, mac n' cheese, pies, whole kernel corn, mashed potatoes, and many more.
SEE: Here's How You Can Eat at KFC Restaurant for Free
If you're looking for restaurants with an extensive drink menu, you won't find KFC in that category. The restaurant offers only a few drinks you can take with whatever meal you choose to order.
Here is the complete list of KFC drinks menu:
Pepsi
Diet Pepsi
Sweet Tea
Lemonade
Dr. Pepper
Sierra Mist
Mountain Dew
1/2 Gallon Beverage
Strawberry Lemonade
Mountain Dew Sweet Lightning
You can see that the restaurant only has about 10 drinks on its menu. And they are common drinks you can get in any grocery store. There isn't much special about the KFC drinks menu.
So, if you're visiting the restaurant anytime soon and none of the above drinks appeal to you, you might want to change your mind. However, keep in mind that the drinks menu may vary with location.
SEE: Does Sheetz Drinks Menu Include Alcoholic Drinks?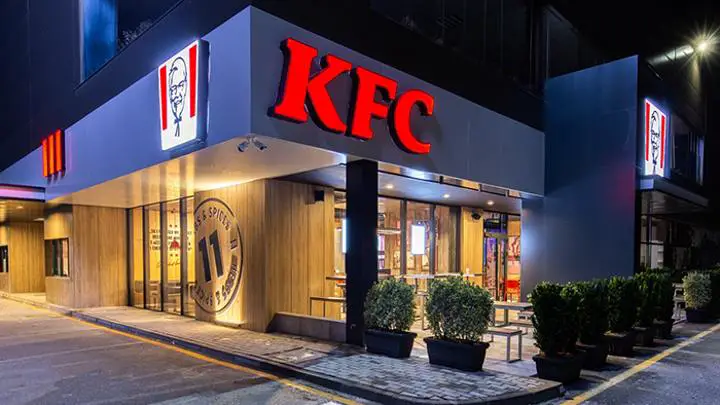 When does KFC open?
While some locations open at 10:30 a.m. or 11:00 a.m., most of the KFC restaurants in the United States open at 10:00 a.m.
Of course, as a company with over 25,000 restaurants in more than 154 countries and territories, you can expect a variation in operating hours depending on the location.
As for closing time, KFC closes at 10 p.m. It's not one of the restaurants like McDonald's that operates 24 hours, 7 days a week. Also, keep in mind that the closing time will vary with location.
Therefore, if you plan to visit any of the locations or order online, first confirm whether the restaurant is open.
You can easily know your local KFC restaurant operating hours by looking it up on the location page where all locations are listed with their information.
Does KFC sell alcoholic drinks?
No, KFC does not have a bar and does not sell alcoholic drinks.
KFC is a fast-casual restaurant known for its fried chicken meals and sandwiches.
Therefore, if you're looking for the perfect spot to wind down with friends over a few bottles of alcoholic drinks, KFC is not the place to visit.
Regardless of your region, the only drinks available at all KFC locations are soft drinks, mainly PepsiCo, Inc products.
SEE: A List of Shots, Cocktails, & Beers Available at Twin Peaks
Does KFC host happy hour?
No, currently KFC does not host happy hour like some of the other similar fast-food restaurants. While there's a lot of information flying around about happy hour at KFC, none of them are true.
No one can certainly say if the iconic fast-food restaurant will start hosting a happy hour in the future. Nevertheless, their items are quite affordable, and about the happy hour price of certain items in some restaurants.
SEE: Does KFC Have Chicken Livers Or Not?
FAQs
Can you order from the KFC drinks menu online?
Yes, all drinks available at KFC can be ordered online with whatever meal you buy.
What is the price of drinks at KFC?
While the prices may vary by location, the price range of drinks at KFC is $3.23 to $3.95, depending on size.
Does KFC offer breakfast?
No, they don't.
KFC is not one of those restaurants you can walk into in the mornings to grab a bite. They open at 10 a.m. which is when some restaurants are winding down on breakfast hours.
However, if you can wait until they open, you can get chicken sandwiches, tender combos, and Nashville hot tenders which are meals that can suffice for a late breakfast. But, because KFC has franchises, you may find locations that serve breakfast (although rare).
SEE: How Good Is KFC Catering Service?
Conclusion
KFC does not have much or anything special on its drinks menu. No alcoholic drinks or the great cocktails you'll find on the menu of other restaurants.
In my opinion, the restaurant is a perfect spot to munch on some delicious fried chicken meals, sandwiches, desserts, and tenders. When it comes to drinks, KFC is not in the game.
Nevertheless, you can visit with friends and family to enjoy the different delicious meals and drinks the restaurant offers.
I hope you found this article helpful. Check out the Cheffist Menu Category to find relevant information about the kind of meals your favorite restaurants offer.
Thank you for reading.