In this article, I have put together the complete Qdoba allergen menu. It will help you know what you should and should not eat next time you are at any of their locations.
Perhaps you have suffered an allergic reaction from eating at Qdoba. You should know that it may not have been a problem with the preparation of the meal. It must have been an allergen in your meal.
To avoid future occurrences, if you have existing allergies or you're following a restrictive diet, take a look at Qdoba's allergen menu.
About Qdoba
Qdoba started in 1995 as Zuma Fresh Mexican Grill and was founded by Anthony Miller and Robert Hauser. After two years, the name was changed to Z-Teca Mexican Grill.
After another two years, it was renamed Qdoba Mexican Grill. It maintained this name until 2015, when it became Qdoba Mexican Eats. The name Qdoba comes from the Spanish word quesadilla, which is one of the items the restaurant offers.
Qdoba Mexican Eats currently has its headquarters in San Diego, California, with over 750 locations spread across 47 states, the District of Columbia, and Canada.
The restaurant offers a rich menu with free guac and queso on the first portion. You can enjoy this with quesadillas, burritos, nachos, tacos, and any of their salad offerings.
In addition, Qdoba is one of the fast-casual restaurants that offer meals made with fresh ingredients. The customers are allowed select their choice of entrée and pick the ingredients.
When does Qdoba open?
Qdoba Mexican Eats is open from 6:30 a.m. until 11:00 p.m. from Monday to Friday.
Operating hours vary with the different locations. Your local Qdoba restaurant may open earlier or later than the location in another city. But 6:30 a.m. to 11 p.m. is what most locations operate.
I'll advise that you always confirm the operating hours of any Qdoba restaurant before going there.
The Qdoba allergen menu is a menu that contains all available items the restaurant offers and the allergen they contain.
Qdoba makes this menu available to all customers to help them know what and what not to eat as they try to avoid allergic reactions. The menu provides you with the necessary information you need to have a safe dining time at the restaurant.
Adobo Seasoning
Adobo Seasoning for Chicken (Milk)
Adobo Seasoning for Ground Beef (Milk)
Adobo Seasoning for Ground Pork (Milk)
Adobo Seasoning for Shredded Beef (No Allergen)
Adobo Seasoning for Steak (Milk)
Sofrito Seasoning (No Allergen)
Verde Seasoning for Pulled Pork (No Allergen)
Beans
The beans Qdoba offers do not contain any allergens.
SEE: What's On Papa John's Allergen Menu?
Miscellaneous
Applesauce (No Allergen)
Brownies (Soy, Egg, Gluten, and may contain Tree Nut and Peanut)
Cheese – Cheddar/ Monterey Jack (Milk and may contain Gluten)
Eggs (Egg)
Fajita Vegetables (No Allergen)
Fryer Oil (No Allergen)
Grilled Vegetables (No Allergen)
Guacamole (No Allergen)
Pan Release Spray (No Allergen)
Potatoes (May contain Gluten)
Sour Cream, Lite (Milk)
Proteins
Beef, Seasoned Shredded (No Allergen)
Chicken, Marinated (Milk)
Chorizo (Milk)
Pork (No Allergen)
Sirloin, Ground (Milk)
Steak, Flat Iron (Milk)
SEE: Check Out The Updated Bojangles Allergen Menu
Rice
All the rice Qdoba offers do not contain any allergens.
Brown Rice
Cilantro Lime Rice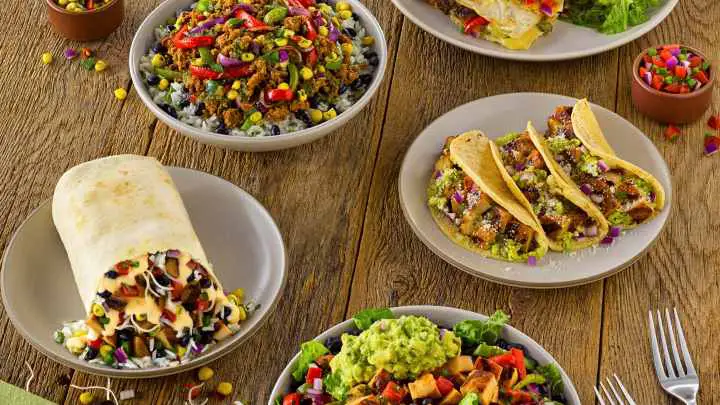 Sauces, Salsas & Soups
Ancho Chili BBQ Sauce (Gluten, Soy, Milk)
Black Bean and Corn Salsa
Cilantro Lime Vinaigrette
Corn and Pepper Blend
Fat-Free Picante Ranch Dressing (Milk)
Fat-Free Ranch Dressing (Milk)
Fiery Habanero
Mango Salsa
Pico De Gallo
Ranchera
Roasted Chile Corn Salsa
Salsa Roja
Salsa Verde
Three Cheese Queso (Milk)
Tortilla Soup
Tortillas
Corn Taco Shell (May contain Gluten)
Corn Tortilla Chips (May contain Gluten)
Corn Tortilla Strips (May contain Gluten)
Soft Flour Tortillas – 6", 10" and 12.5" (Gluten)
Soft White Corn Tortillas (No Allergen)
Soft Whole Wheat Flour Tortilla (Gluten)
Taco Salad Shell (Gluten)
Can you eat at Qdoba if you are gluten sensitive?
Yes, you can.
The best way to eat at Qdoba if you are gluten intolerant is to build-your-own creation.
The flour tortillas are not gluten-free. The gluten-free corn tortillas are most likely cross-contaminated with gluten because Qdoba prepares all tortillas and taco shells in the same environment.
To dine safely at Qdoba, you should carefully go through the gluten-free menu before you choose your meals.
SEE: Restaurants That Serve Gluten-Free Fast Food Breakfast
Can you eat at Qdoba if you have dairy allergies?
Yes, you can.
Qdoba offers dairy-free entrees and several ingredients with which you can "build your own" creations to suit your needs.
Some of the dairy-free items include:
Chicken Protein Bowl
Citrus Lime Chicken Salad
Fajita Vegan Bowl
Tortillas and Taco Shells
Tortilla Soup
Guac & Chips
Impossible Fajita Bowl & Burrito
Applesauce
Low-Cal Chicken Grain Bowl
Double Chocolate Brownie
Paleo Chicken Salad
Chorizo
Pulled Pork
Southwest Steak Burrito
Rice & Beans
Street-Style Chicken Tacos without the cheese
Vegetables like cilantro and lettuce
Sauces like handcrafted Guacamole, Chile Corn Salsa, Habanero Salsa, and Pico De Gallo
Yes, it does.
You can find some vegan items on Qdoba's menu. There are vegan Signature Eats to choose from, and Qdoba allows customers to "build-your-own" creations.
Some of the Signature Eats include vegan-as-is Fajita Vegan Bowl, Impossible Fajita Bowl, and Impossible Fajita Burrito.
These meals are made strictly with vegan ingredients like chile corn salsa, pico de gallo, fajita vegetables, salsa verde, black beans, cilantro, brown rice, peppers, and onions.
With the "build-your-own" creations, you can build your tacos, burritos, bowls, salads, and platters to be vegan-friendly. Omit cheese and other non-vegan items.
Combine tortillas or taco shells with veggies, impossible meat, black beans, cilantro, fajita vegetables, pico de gallo, any of the salsas, and the handcrafted guac.
SEE: Get Free Tacos or BOGO Offer at Jack in the Box
How to order meals from Qdoba
There are different ways to get meals from Qdoba if you do not have the time to dine in. Download the Qdoba mobile app or order your meals through the official website.
All you need do is select your location and choose your meals. Afterward, you can choose between the takeout and delivery options. Qdoba partners with food delivery services like GrubHub, Postmates, and DoorDash.
Confirm that the food delivery partner is available at the Qdoba location where you are getting your meal.
FAQs
What is in Qdoba brown rice?
Qdoba brown rice contains roasted garlic, fire-roasted tomatoes, onion, red chiles, and brown rice.
Can you get rice without cilantro at Qdoba?
Yes, you can. If you'd rather have your rice without cilantro, politely tell the person taking your order, and you will be served accordingly.
When are Qdoba meal times?
Qdoba starts serving breakfast at 6:30 a.m. and stops at 10:30 a.m. from Monday to Friday. On weekends, the restaurant serves breakfast until noon.
Qdoba serves lunch from 11 a.m. until 2 p.m., Monday to Sunday. There may be slight variations on weekends when the restaurant serves breakfast until noon.
When is Qdoba happy hour?
Qdoba does not offer happy hour deals for now.
You can always check the official website or visit your local Qdoba to know when there are special deals on its menu.
Conclusion
Qdoba Mexican Eats is a place to visit if you want to satisfy your craving for delicious Mexican meals. From tacos and quesadillas to salads and fajitas dinners made with chicken and steak, there is something for everyone.
I hope you found the Qdoba allergen menu very resourceful. Your next dining time will be more pleasant.
You should also take a look at the Chipotle allergen menu and Taco Bell allergen menu if you love to dine in restaurants that serve Mexican-style cuisine.
Visit Cheffist to read the allergen information of different popular restaurants.