Did you get to Taco Bell and could not get your favorite lunch meal? You probably got there during the breakfast hours. So, when does Taco Bell serve lunch? Are there any special deals you can take advantage of during lunch hours?
Some restaurants run an all-day menu but Taco Bell and many others have separate meal times. And Taco Bell is a breakfast restaurant. It serves breakfast from 7 a.m. until 11 a.m. then switches to the lunch menu.
I believe you have more questions like when does Taco Bell stop serving lunch? Can you get anything from the breakfast menu during lunch hours?
Read on to find the answers to your questions.
About Taco Bell
Taco Bell is an American-based restaurant chain that specializes in Mexican-inspired meals. The restaurant was founded by Glen Bell in 1962. It started in Downey, California but currently has its headquarters in Irvine, California.
Taco Bell trades under the parent brand, Yum! Brands inc. The restaurant has over 7,000 locations spread across the United States and other countries of the world.
But only about 7% of this number belongs to the company. The other percentage is owned by independent franchisees.
When does Taco Bell open for the day?
Taco Bell starts its daily operations at 7 a.m. every day and closes by 11 p.m.
Some of the locations belong to independent franchisees. So, operating hours will vary across stores.
Moreover, the size of the city the restaurant is located in also determines the operating hours. Busier and larger cities will open earlier and close later than small and quieter cities.
Additionally, a few Taco Bell stores in bustling cities are open 24 hours every day. Use the store locator on the official website to check the operating hours of the store you want to visit.
SEE: Here Is The Complete Taco Bell Allergen Menu
When does Taco Bell serve lunch?
Taco Bell starts to serve lunch at 11 a.m. which is immediately after breakfast hours are over.
But some locations switch to the lunch menu at 10 a.m. and some others begin later at 11:30 a.m. Ensure that you confirm the lunch hours of the store before visiting.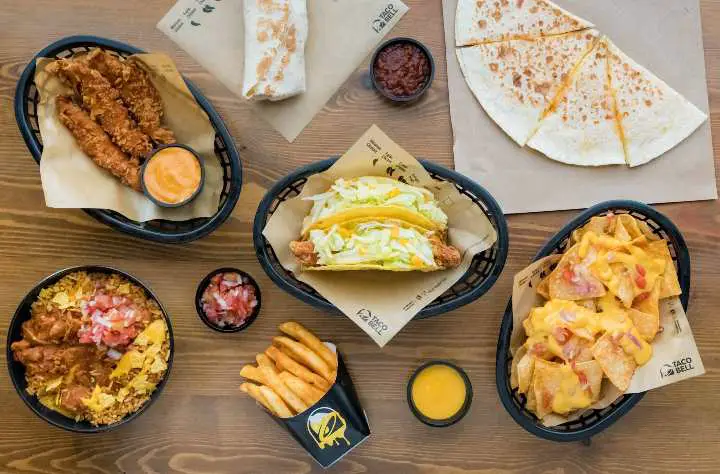 Below is the full list of the items on Taco Bell's lunch menu:
Tacos
Soft taco
Soft taco supreme
Crunchy Taco
Crunchy Taco Supreme
Nacho Cheese Doritos Locos Tacos
Nacho Cheese Doritos Locos Tacos Supreme
Spicy potato soft taco
Burritos
Double steak grilled cheese burrito
Spicy double steak grilled cheese burrito
Grilled cheese burrito beans burrito
Beefy 5-layer burrito
Quesarito
Black bean Quesarito
Chilli cheese burrito
Fiesta veggie burrito
Best Combos at Taco Bell
Nachos bell grande combo
2 chicken chalupas supreme combo
Crunch wrap supreme combo
3 Crunchy tacos combo
3 Crunchy tacos supreme combo
3 Doritos locos tacos combo
3 Doritos locos tacos supreme combo
3 Soft tacos combo
Burrito supreme combo
Classic combo
New Lunch Items
Double steak grilled cheese burrito
Spicy double steak grilled cheese burrito
Grilled cheese burrito
Grilled cheese burrito deluxe box
Chipotle cheddar chalupa
SEE: Does Pepsi Own Taco Bell?
Quesadillas
Chicken Quesadilla
Steak Quesadilla
Cheese Quesadilla
Power Menu Bowls
Power Menu Bowl
Power Menu Bowl-Veggie
Sides & Sweets
Cheesy Fiesta Potatoes
Chips and Nacho Cheese Sauce
Nachos Bell Grande
Chips and Nachos with Cheese Sauce
Drinks
Mountain Dew® Baja Blast® Freeze
Cherry Bliss Freeze
Mango Freeze
Wild Cherry Freeze
Pepsi ®
Diet Pepsi ®
Pepsi® Zero Sugar
Mountain Dew®
Mountain Dew® Baja Blast®
Mountain Dew® Baja Blast® Zero Sugar
 Dr. Pepper®
Sierra Mist ®
G2 Gatorade® Fruit Punch
Dole® Lemonade Strawberry Squeezes
Brisk® Mango Fiesta
Brisk ® Dragon Paradise ™ Sparkling Iced Tea
Lipton ® Unsweetened Iced Tea
Iced Tea Special
Sweet Tea Special
Aquafina® Bottled Water
Orange Juice
Premium Hot Coffee
Hot Cinnabon Delights® Coffee
Regular Iced Coffee
Iced Cinnabon Delights ® Coffee
Drinks Party Pack
SEE: Here's How You Can Still Get Meximelt At Taco Bell
Are there special deals during Taco Bell's lunch hour?
Yes. During lunch hours at Taco Bell, you can get the "$5 My Cravings Box" deal. The restaurant allows customers to build their cravings box with items from the following categories plus a 20-ounce drink:
Specialty
Chalupa Supreme
Cheesy Gordita Crunch
Crunchwrap Supreme
Black Bean Chalupa
Black Bean Crunchwrap Supreme
Classic
Crunchy Taco
Beefy 5-layer Burrito
Bean Burrito
Spicy Potato Soft Taco
Nacho cheese Doritos
Soft Taco
Sides
Chips and Nacho Cheese sauce
Cinnamon Twists
Cheesy Fiesta Potatoes
Are there happy hour deals during Taco Bell's lunch hour?
Taco Bell's happy hour deals are available from 2 p.m. to 5 p.m. Happy hour at Taco Bell begins when lunch hours come to an end.
If you are in the restaurant at 2 p.m. you can enjoy these deals if you are willing to stay a little longer. During Taco Bell happy hour, all drinks and freezes are sold at $1.
SEE: Tell The Bell & Win a $500 Cash Prize Through Taco Bell Survey
How can you order lunch from Taco Bell?
You can order lunch from Taco Bell through the restaurant's official website.
When you click the order online option, you'll be asked to fill in your location. Your location details will enable a nearby Taco Bell to find you and attend to your order.
Select how you want to get your order. You can request a delivery or go to the store to pick up your meal.
Taco Bell partners with food delivery partners such as DoorDash, Uber Eats, and GrubHub to get your meals to you. Choose one and proceed with your order.
Pick the items you want and add them to your cart. Check out, make payment, and submit your order.
FAQs
Can you get breakfast during Taco Bell's lunch hours?
No, you cannot. Most Taco Bell locations stop serving breakfast once lunch hours begin.
But, you may be lucky to get the Cheesy Bacon Burritos a few minutes into lunch. However, this is only available in a few locations and it is not an everyday thing.
Does Taco Bell serve lunch during holidays?
Yes, it does. If the Taco Bell location is open during the holiday, you can be sure to get lunch during the lunch hours. Taco Bell is open on all holidays except Christmas Day and Thanksgiving Day.
Operating hours vary on Christmas Eve and New Year's Eve. On these days, you have to call the location you want to visit to confirm the operating hours.
Are there vegan options on Taco Bell's lunch menu?
Yes, there are. At Taco Bell, you can modify your lunch to suit your vegan diet. Remove the meats and replace them with refried beans. Also, leave out any dairy products such as cheese, chipotle sauce, and sour cream.
Go for the tomato-based sauces instead and fill up your meal with potatoes and veggies. Without any modifications, you can have the Hash Browns, Fresco-Style Power Menu Bowl, and a bowl of Rice and Beans.
Can celiacs eat at Taco Bell?
No. Celiacs shouldn't eat at Taco Bell; the chain does not recommend it.
Although there are meals that do not contain any gluten-containing ingredients, all the meals are prepared in a shared cooking space and with shared utensils. This puts meals at risk of cross-contamination.
Conclusion
Most Taco Bell locations stop serving breakfast at 11 a.m. and commence the lunch menu immediately. In some locations, you may still get the Cheesy Bacon Burritos a few hours into lunchtime.
Also, some locations do not start serving lunch until 11:30 a.m. Always confirm the operating hours and meal times of the location ahead of your visit. In addition, if you can get to your local Taco Bell by 2 p.m., you just might be lucky to enjoy the happy hour deals.
If you'll like to get more, you must be willing to stay beyond lunch hours.
Finally, check out Wendy's lunch hours and menu here.
Thanks for reading.
Check out the lunch hours and menu of your favorite restaurants on Cheffist.