Are Klondike bars gluten-Free? No, they are not. Sadly, the tasty ice cream bars have gluten and are not suitable for people with gluten intolerance.
As a result, you must constantly try to understand more about the ingredients used in ice cream bars. You also need to be very picky about the ones you choose to eat, especially if you are gluten sensitive.
In this article, you'll learn all about Klondike bars, including why they're not gluten-free and what alternatives you can buy.
What are Klondike bars?
A Klondike bar is a massive creamy vanilla ice cream slab encased in a decadent chocolate shell.
It was first produced by the Isaly Dairy Company in Mansfield, Ohio, then by Unilever's Good Humor-Breyers subsidiary. The Klondike River in Yukon, Canada, inspired the ice cream name.
Nonfat milk, sugar, coconut oil, corn syrup, cream, whey, chocolate liquor, less than 2% milk, soybean oil, cocoa, mono and diglycerides, locust bean gum, natural and artificial flavors, guar gum, soy lecithin, carrageenan, salt, caramel color, and vitamin palmitate are the ingredients that make-up one Klondike ice cream bar.
The bars come in a silver-colored wrapper that depicts the brand's mascot, a polar bear. The Klondike bar, unlike a regular ice pop or ice cream bar, lacks a handle given its size, which is prominent when advertised.
Are Klondike bars gluten-free?
No, they are not. Klondike foods are not gluten-free, according to the producers. Therefore, they are not safe for gluten-intolerant people.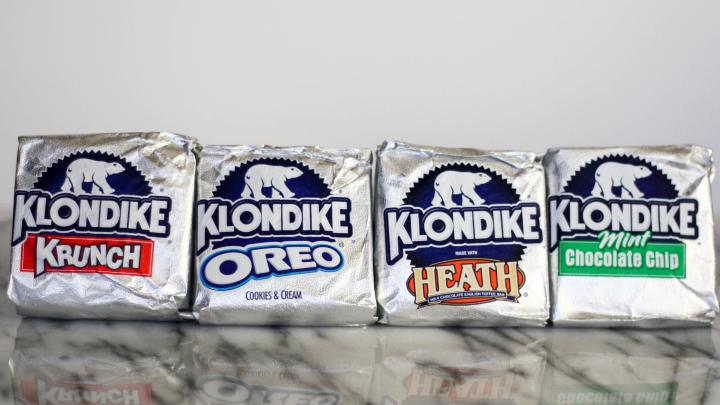 Are Klondike Krunch bars gluten-free?
No, they are not. The ice cream bars have gluten which makes them unhealthy for anyone who has celiac disease or allergen issues.
Why are Klondike bars not gluten-free?
Because they are manufactured using wheat flour and other gluten-induced ingredients, the ice cream bars are not gluten-free.
Furthermore, the producers do not run allergy-free production facilities; though they try to set up facilities that have allergen administration policies.
Does Heath Klondike bar have nuts?
Yes, they do. Soybean and their composites, milk and its extracts, coconut and its derivative products, tree nuts with their variants, and corn, as well as its derived products, are all found in a Heath Klondike bar.
SEE: Are There Gluten-Free Hershey's Kisses?
Klondike bars gluten-free alternatives
Unfortunately, Klondike bars are not gluten-free, even though the brand produces some of the most widely available ice creams.
1. Ben & Jerry's
Ben & Jerry's is a well-known brand for individuals following gluten-free diets, they supply certified gluten-free flavors such as Cherry Garcia, Phish Food, and Vanilla Caramel Fudge.
2. Cado
Cado is a gluten-free ice cream manufacturer that uses avocado puree and avocado oil to create delightful frozen confections.
Chocolate Mud Pie, Salted Caramel, Java Chip, and Cherry Amaretto Chip are just a few of Cado's unique flavors.
3. Dove Ice Cream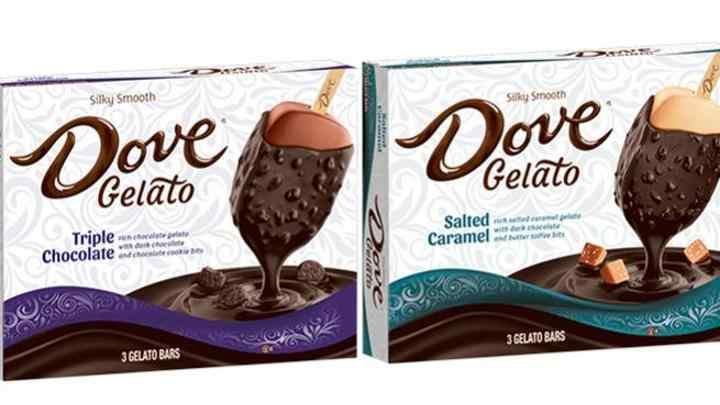 The Dove ice cream brand, while not Klondike, is a superior choice for anyone with a gluten intolerance because it is created without gluten components.
Some of the gluten-free Dove ice cream brands include:
Chocolate Ice Cream with Dove Dark Chocolate bar
Mango Sorbet with Dove Dark Chocolate
Salted Caramel Gelato with Dove Dark Chocolate and Butter Toffee Bits
Strawberry Sorbet with Dove Milk Chocolate
Raspberry Sorbet with Dove dark Chocolate
Dove Bar Vanilla Ice Cream with Dove Dark Chocolate
Vanilla Ice Cream with Dove Milk Chocolate
Dove Bar Vanilla Ice Cream with Dove Milk Chocolate and Almonds
Vanilla-Caramel Swirl Ice Cream with Dove Milk Chocolate and Cashews
4. Coconut Bliss
Coconut Bliss is an Oregon-based firm that specialized in coconut-based ice cream delicacies, set up by Luna Marcus and Larry Kaplowitz. Their ice creams are made using gluten-free baked products and USDA-certified organic fair-trade ingredients.
Legendary Cookie Dough, Classic Dark Chocolate, Sweet Cherry Amaretto, and Golden Banana Brownie Swirl are among the gluten-free varieties offered by Coconut Bliss.
5. Fat Boy
Another excellent gluten-free ice cream cone choice is Fat Boy. They have gluten-free ice cream sandwiches and cones available.
6. Bubbies Ice Cream
This is delicious rice dough wrapped over mochi ice cream. It's the right balance of gritty and creamy, and it's guaranteed to please ice cream fans.
Bubbies sell gluten-free mochi in a variety of flavors, featuring Blood Orange, Cookies & Creme, Matcha Green Tea, Passionfruit, and Triple Chocolate.
7. Haagen-Dazs Bars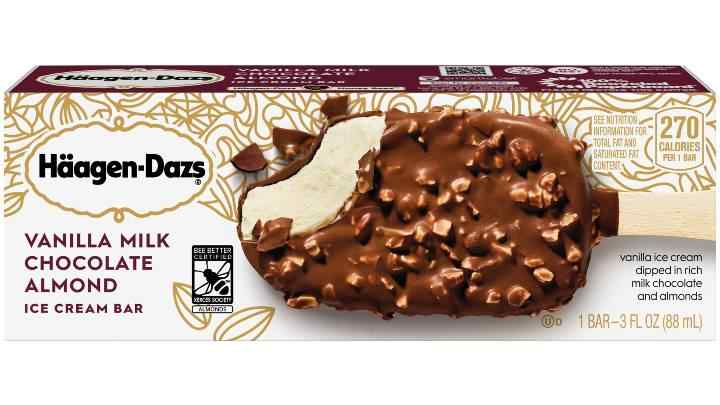 This is another healthy and gluten-free choice you can substitute for Klondike. The following are some of the flavors:
Coffee Almond Crunch Ice Cream Bar
Peppermint Bark Ice Cream Bar
Vanilla Milk Chocolate Ice Cream Bar
Haagen-Dazs Vanilla Milk Chocolate Almond Ice Cream Bar
8. Jolly Llama
Jolly Llama produced gluten-free dairy-free ice cream cones and sandwiches that are safe for people with dairy and gluten allergies.
9. Straus Family Creamery
This is an organic ice cream business that uses milk from 12 individually owned organic products dairy farms in Marin and Sonoma Counties, including the Straus Family Dairy Farm.
Their natural ice creams are all gluten-free and kosher-approved. Chai Latte, Snickerdoodle, Raspberry Chip, and Cookies & Cream are some of the wonderful flavors available.
10. So Delicious Ice Cream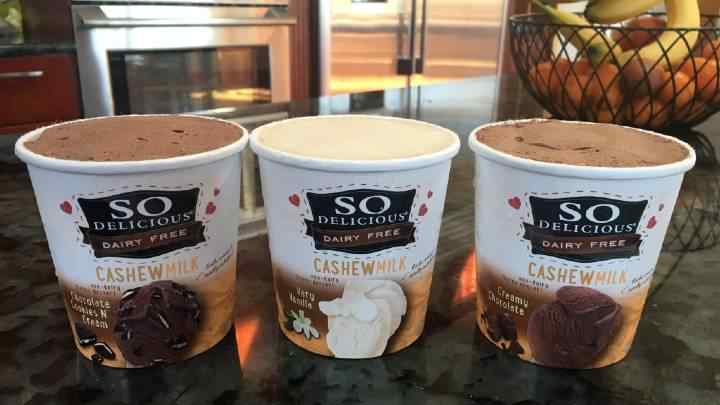 This is a gluten-free, GFCO-certified, non-dairy ice cream prepared with almond, soy, coconut, oat, or cashew milk.
Chocolate Cookies n Creme, Caramel Apple Crumble, and No Sugar Added Chocolate are some of the gluten-free varieties available.
11. Rebel Ice Cream Sandwiches
The ice cream company makes reduced-sugar ice cream sandwiches with monk fruit, a natural sugar substitute, which is also low in net carbs and has little to no added sugar.
This ice cream sandwich presently offers three flavors: Chocolate Chip Vanilla, Double Chocolate Mint, and Double Peanut Butter.
12. Alden's Organics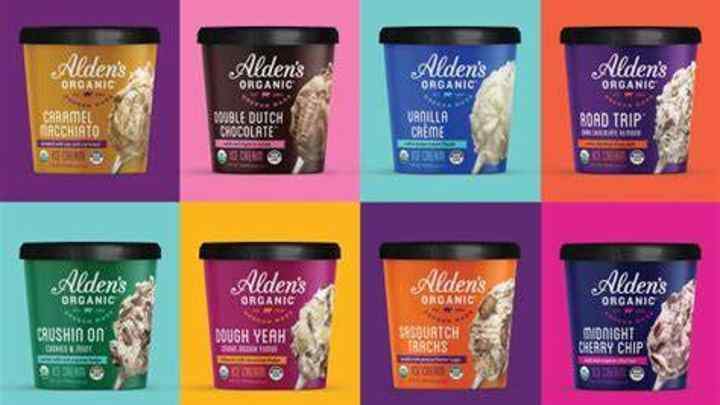 Alden's Organics in Oregon offers a variety of dairy-based ice cream flavors that have been certified gluten-free by the Gluten-Free Certification Organization (GFCO).
The ice cream is also free of high fructose corn syrup, artificial sweeteners, flavorings, and colors. The gluten-free flavors include Peanut Butter Fudge, Salted Caramel, Coffee Chip, Strawberry, and Mint Chip.
SEE: Get a Chance to Win a $500 Food Lion Gift Card
FAQs
Are Klondike bars real ice cream?
Yes, they are. The ice cream is kosher-certified and made with no artificial growth hormones used on cows.
Are Klondike bars healthy?
Klondike bars may not appear large, but they have 23 grams of sugar, 28 grams of carbohydrates, 14 grams of saturated fat (including an undesirable 11 grams of fat content), and 250 calories.
Although they look it, one Klondike bar weighs 85 grams. All these details sum up to say they are one of the biggest yet least healthy ice cream selections available.
Do Klondike bars have eggs in them?
Yes, they do. The ice cream bars have eggs and dairy making them unsuitable for vegetarians or vegans.
Are Klondike bars mint?
Yes, they are. Fresh mint sweetness blended with luscious chocolate chips and encased in a dark chocolaty coating in the Chocolate Chip Bar. You can call it mint chocolate chip nirvana.
What's the difference between an Eskimo Pie and a Klondike bar?
While Eskimo Pies remained to their tried-and-true vanilla ice cream – chocolate covering, Klondike supplied a range of ice cream flavors in its bars, including grape, maple, and cherry, even in their first year of operation.
What's so special about Klondike bars?
A normal ice cream treat includes 250 calories and 14 grams of fat, making an Original Klondike bar less healthy.
For those aiming to eat lighter, there are 100-calorie bars (with just 5 grams of fat) and No Sugar Added bars (with only 5 grams of sugar).
Conclusion
Maintaining a gluten-free lifestyle doesn't mean you can't enjoy frozen treats. You only need to get familiar with treats that contain gluten and gluten-free ones.
Unfortunately, Klondike is not one of those excellent alternatives, and gluten-intolerant persons should avoid it.
Also, ice cream bars should only be consumed on rare occasions because they are high in fat and calories, which may be harmful to one's health and quality of life.
All the products listed previously can be excellent additions or substitutes for Klondike, which is regrettably not vegan-friendly.
Thank you for reading.
If you enjoyed reading this article, view Cheffist for more.