The Sonic breakfast menu offers you a range of rich, belly-filling, and delicious American breakfast meals that you can enjoy any time of the day.
Sonic is the place to go when you're running late and can't wait to fix breakfast. The fast food restaurant offers a variety of delicious and nutritious breakfast items.
If you don't know what is available all the available breakfast meals and beverages you can find on the Sonic Breakfast menu. 
About Sonic
Operated and owned by Inspire Brands and founded as Sonic Drive-In or commonly referred to as Sonic, Sonic Corporation is a drive-in American fast-food restaurant chain. 
Furthermore, Inspire Brands which owns Sonic Drive-In is also the parent company of popular restaurant chains such as Buffalo Wild Wings and Arby's.
Currently, the Sonic Drive-In restaurant chain has about 3,548 locations within 46 states in the United States.
When does Sonic open? 
Sonic Drive-In restaurant chain starts its daily operations by 6:00 am and closes by 10:00 pm from Mondays to Sundays in most locations. 
However, these hours vary according to location. While some locations open as early as 6:00 am and close by 10:00 pm, others open by 9:00 am with closing hours ranging from 11:00 pm to 1:00 am.
The Sonic Breakfast menu is a list of breakfast-themed meals and beverages that the restaurant chain offers its customers.
In addition, the Sonic Breakfast hours start as early as 6:00 am in some locations and do not end till the close of business.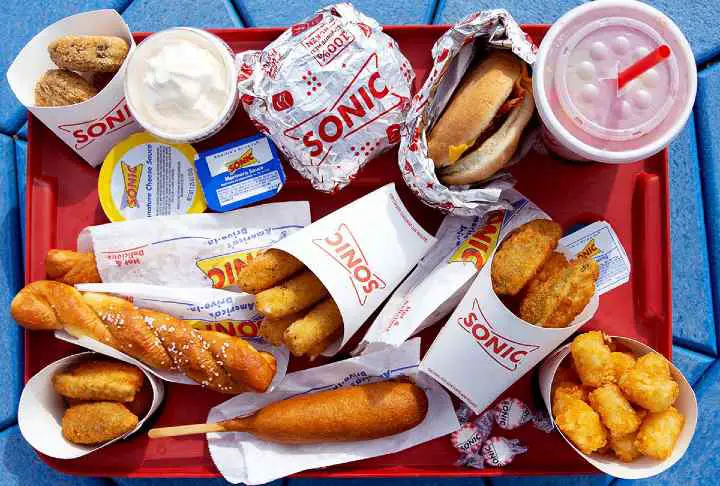 The following breakfast meals and beverages are available on the Sonic breakfast menu;
Breakfast entrees
Bacon BREAKFAST TOASTER
Sausage BREAKFAST TOASTER
Bacon Breakfast Burrito
Sausage Breakfast Burrito 
SuperSONIC Breakfast Burrito
Ultimate Meat & Cheese Breakfast Burrito
Jr. Bacon, Cheese & Egg Breakfast Burrito
Jr. Sausage, Cheese & Egg Breakfast Burrito
Cinnabon Cinnasnacks with Cream Cheese Frosting
Beverages 
Original Cold Brew Iced Coffee
French Vanilla Cold Brew Iced Coffee
Green Mountain Coffee
Sonic offers the following kid-sized meals on its menu. 
Hamburger Wacky Pack
Crispy Tenders Wacky Pack
Hot Dog Wacky Pack
Corn Dog Wacky Pack
Grilled Cheese Wacky Pack
No, there is no special menu or chef's special offered at Sonic Drive-In. However, like most fast-food restaurants, Sonic has a featured menu that highlights customer favorites. 
Is there happy hour deals at Sonic Drive-In?  
Yes, Sonic Drive-In offers happy hour discounts across its locations. However, these discounts only affect the drinks menu, allowing you to pay half the price for every drink you order with your meals.
Additionally, the beverages in Sonic's happy hour deals include Iced Teas, Soft Drinks, Limeades, Lemonades, Slushes, Lemonades, and Ocean Water.
Yes, Sonic Drive-In serves the same breakfast items on weekends. In addition, it is not certain if the restaurant serves special meals on the weekends. 
Yes, you can enjoy discounts through the Everyday Deals where a select variety of meals are sold at discounted prices.
There is also a half-price discount on slushies and drinks when you order and make payments online. 
The Sonic Everyday Deals menu consists of the following items;
Quarter Pound Double Cheeseburger
Grilled Cheese Sandwich
Jr. Sausage, Egg and Cheese Breakfast Burrito
Vanilla Cone
Jr. Bacon, Egg, and Cheese Breakfast Burrito
How can you order breakfast at Sonic?
To order your delicious breakfast from Sonic, visit their website, choose your meals, select a location close to you, and place your order. Also, you can follow the same process on the Sonic Drive-In mobile app. 
Please note that in addition to dine-in, Sonic Drive-In also offers delivery and pick-up options. 
Would you like to win a free drink to go with your Sonic Breakfast? You can win free drinks from Sonic by participating in the TalkToSonic Survey that is available on Surveystor. 
To get a free drink coupon, you just have to complete the Sonic Restaurant Guest Satisfaction Survey.
FAQs
Is the Sonic breakfast menu vegan-friendly? 
Unfortunately, the meals offered on the Sonic breakfast menu are not ideal for vegans as they either contain meat or dairy. 
Does Sonic serve gluten-free alternatives to the breakfast menu? 
No, Sonic does not offer gluten-free alternatives to its meals that contain gluten. However, you can ask for ingredient reductions to make your meals gluten-free or order from any of their meals that do not contain gluten. 
Can you purchase breakfast meals in large quantities at Sonic? 
Yes, you can purchase your breakfast meals in large quantities from Sonic for your special events. 
Conclusion
The Sonic breakfast menu offers a range of rich and tasty meals alongside ice-cold beverages that are nutritional and perfect for your mornings.
In addition, the menu is not limited to mornings alone as you can get these meals all day long. 
However, because some of the meals may contain animal by-products, Sonic's breakfast menu is not suitable for vegans.
Finally, although item reductions can be made when ordering, some of the items on the Sonic breakfast menu contain gluten, making them unsuitable if you're gluten-sensitive. 
I hope you found this article helpful. Thanks for reading.
Visit Cheffist to read more reviews on your favorite restaurants.