No, Jiffy cornbread mixes are not gluten-free. All regular jiffy cornbread mixes contain wheat flour. Among other allergens present in the corn muffin mixes, commercially sold jiffy cornbreads may be among foods you should avoid if you're sensitive to gluten. 
This article explores all you need to know about jiffy cornbreads as well as how to make them gluten-free to meet your health needs. 
What is a jiffy cornbread? 
Jiffy cornbread is an easy bake variation of traditionally made cornbread that uses the classic Jiffy Cornbread Mix to bypass the stress of making your cornbread from scratch. 
This means that instead of going through the stress of corn blending to make the cornmeal used in making your cornbread, you can simply use the cornbread mix and add in your ingredients. 
The Jiffy cornbread is not only known for its rich and buttery soft texture but also for the short duration it takes to make it. 
SEE: Jiffy Cornbread Without Milk- Worth A Shot?
What is a jiffy corn muffin mix?
The Jiffy corn muffin mix is a brand of easy baking mixes created and marketed by the Chelsea Milling Company that is used in making the famous Jiffy cornbread.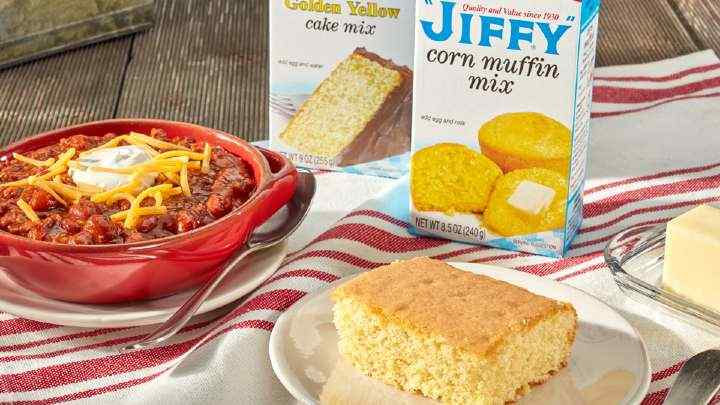 The Jiffy mix was created by Mabel White Holmes and is the first prepared baking mix in the United States. You can easily identify these baking mixes with their small box packaging and the brand's logo in blue. 
What ingredients are used in making jiffy cornbread?
To bake a jiffy cornbread, you need the jiffy corn muffin mix and can use some or all of the following ingredients; milk, eggs, melted butter, sugar, and sour cream. The sour cream helps add moisture to the cornbread and reduces its sweetness. 
The Jiffy cornbread takes about 5 minutes to mix the ingredients in a bowl and then about 25 minutes to bake to completion. 
What dishes can you eat with jiffy cornbread? 
You can eat your jiffy cornbread as a side with numerous dishes like homemade chicken noodle soup, ground beef chili, classic meatloaf without bread, classic baked Dutch oven pot roast, and pork chops and gravy. 
You can also enjoy them with BBQ beef, roasted turkey, hamburger vegetable soup, beans, ham, etc. 
SEE: If You Can Substitute Water For Milk In Cornbread
Can you suffer allergic reactions to jiffy cornbread? 
Yes, you can have allergic reactions to jiffy cornbread if you have a wheat or corn allergy. This is because the Jiffy cornbread mix contains wheat flour and corn flour. You can also suffer allergies if they consist of dairy products like milk, or if you have an egg allergy. 
How do you make jiffy cornbread? 
To make your delicious jiffy cornbread and have it ready within 30 minutes, simple use the following steps;
Use paper baking cups or grease your muffin pan and preheat your oven to 400°F.
Pour the Jiffy cornbread mix and desired ingredients into a bowl and stir together. Note that your batter may be slightly lumpy. Also, if you desire maximum crown on the muffins, allow the batter to rest for about 4 minutes then stir lightly before filling the cups. 
Make sure your muffin cups are about ⅔ full before placing them in the oven. 
Bake your jiffy cornbread for about 20 minutes or until you see a golden brown appearance. 
Allow your jiffy cornbread to cool down before serving. 
FAQs 
Are there gluten-free jiffy cornbread mixes? 
No, there are no gluten-free versions of the Jiffy cornbread mix (they all contain wheat flour).
How can you make a gluten-free jiffy cornbread? 
To make a gluten-free jiffy cornbread, you'll have to make it from scratch using a homemade copycat Jiffy mix. That means you will be replacing the wheat flour using gluten-free baking flour. 
Is there a difference between jiffy cornbread and jiffy corn muffin mixes? 
No, it is the same product and there is no difference. That is because while it is popularly called the Jiffy Cornbread Mix due to its application in making cornbread, the original name of the product is Jiffy Corn Muffin Mixes. 
Conclusion
The Jiffy Corn Muffin Mixes contain gluten, making it unsafe for people with gluten intolerance, wheat allergy, or celiac disease. That is because packaged cornbread mixes most likely contain wheat flour.
Unless you baked it yourself or it's labeled gluten-free, it is safe for you to assume every jiffy cornbread you see out there contains gluten.
However, you can prepare your cornbread without the use of gluten-containing ingredients or flour by formulating your own makeshift cornbread mix. 
Finally, is an allergic reaction to your gluten intolerance the only worry you have about eating the Jiffy cornbread, or do you have other health concerns? Find out if cornbreads are generally healthy for you especially if you're diabetic. 
I hope you found this article helpful. Thanks for reading.